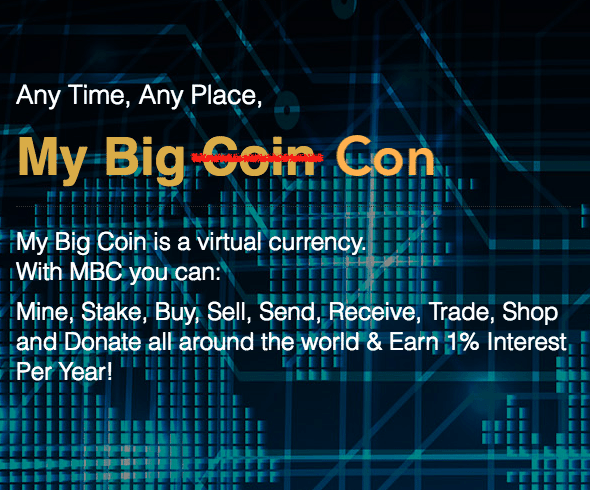 The US District Court of Massachusetts has indicted Randall Crater, the man they allege led a "My Big Coin" cryptocurrency fraud that bilked primarily New York investors out of $6 million USD.
Crater is charged with four counts of wire fraud and three counts of unlawful money transactions related to his receiving of large sums from defrauded investors.
The My Big Coin case was a seminal legal event as it established the jurisdiction of the Commodity Futures Trading Commission (CFTC) as having oversight over virtual currencies. Initially, My Big Coin argued that their tokens were not regulated by CFTC because they were not commodities. The judge overseeing the case, ruled otherwise thus establishing the ability of the CFTC to pursue these types of cases.
According to the February 26th indictment, Crater and unnamed accomplices ran the My Big Coin scheme between 2014 and 2017, during which time:
"…Crater…and others known and unknown to the Grand Jury, falsely claimed that Coins were a functioning virtual currency that had value, were backed by gold or other assets, and could be traded on a virtual currency exchange."
According to reporting at CCN, My Big Coin purveyors arbitrarily set their coins value at $310.
As well, despite being promoted for three years, My Big Coin never traded on any credible exchange.
Prosecutors claims support this view:
"In reality, Coins were not backed by gold or other assets, were no readily exchangeable virtual currency, and had little to no actual value. Rather, CRATER misappropriated more than $6 million of investor money for personal use."
Rather than create a viable cryptocurrency, say prosecutors, Crater and accomplices focussed on personal enrichment:
"The principal objectives of the scheme to defraud were for CRATER…(and accomplices) to…enrich themselves…obtain millions of dollars in investor funds through false and misleading statements, representations and promises…(and) conceal from investors the nature and manner in which they were using investor funds."
They allegedly used various means to promote My Big Coin, including websites and social media "to broadcast misrepresentations…"
Additional methods of solicitation included emails, texts and "other solicitation of investor funds."
Crater's allegedly received investor funds via his personal bank accounts and those owned by family members.
Once and investor had been inducted, Crater and accomplices allegedly "distribut(ed) false information to (them) regarding their accounts, including false 'balances' of coins in their accounts…" and published fictional price data on the My Big Coin website daily, "As a further effort to mislead investors."
The accused also falsely claimed affiliation with Mastercard.
Prosecutors say they have evidence of broadcasted claims from My Big Coin that the product was asset-backed, including emails stating: "Each coin is backed by gold!" and "We have $300 million in gold backing us."
My Big Coin purveyors also allegedly claimed that the coins could be used with cooperating retailers although there were none.
Crater is also accused of engaging in an almost $1 million dollar spending spree, including $400,000 USD spent on jewellery at the Southhampton Jewellery Exchange and the purchase of antique coins, "a rare stone," art and "decorative figures" at Southampton auction house Lord and Guy, LLC, where prosecutors say Crater spent more than $500,000 USD.
The State of Massachusetts is also seeking forfeiture of any assets "derived from proceeds traceable to the offenses."