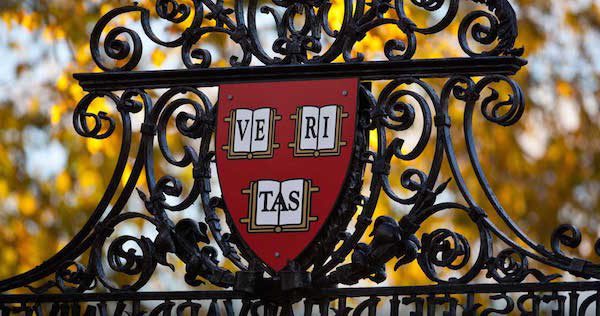 Harvard University, via their endowment fund, is backing Blockstack's security token offering.
Digging into the Reg A+ Offering Circular filed with the SEC last week, Blockstack highlighted the relationship with Harvard Management Company:
"In connection with the sale to the QP Fund, we have formed a token advisory board, the LP Advisory Committee, the main purpose of which is to determine whether the above milestones have been met.  The token advisory board consists of seven members. Three of the members, Charlie Saravia, Zavain Dar and Rodolfo Gonzalez are designees of affiliates of the Harvard Management Company, Lux Capital and Foundation Capital, respectively, limited partners of the QP Fund which have purchased an aggregate of 95,833,333 Stacks Tokens; the board also consists of four independent members, Koen Langendoen, Arvind Narayanan, Arianna Simpson and Catherine Tucker."
Harvard Goes Crypto
Saravia is a Managing Director of Harvard Management Company.
The 95.8 million tokens represent an $11+ million investment but perhaps, more importantly, the Blockstack offering now gains with the affiliated prestige of Harvard's backing and Ivy League stamp of approval.
Crowdfund Insider reported last week, when the Form 1-A hit the SEC website, that Blockstack expects their Reg A+ offering to be qualified by the SEC as they have been working with lawyers to assure their protocols comply with SEC regulations:
"Our framework is consistent with the latest SEC guidelines released last week."
To date, not a single Reg A+ filing that is affiliated with a blockchain/crypto offering has been approved by the SEC.
Reg A+ is an updated securities exemption and one of three crowdfunding rules approved under the JOBS Act of 2012. The exemption has been described as a "mini-IPO" type facility. Issuers must complete a comprehensive document explaining their business and associated risks. The document goes through a lengthy review process by the SEC. If approved, a Reg A+ issuer may raise up to $50 million in securities.
According to the Offering Circular, investors may participate in the "Stack Token" offering via either fiat currency, Bitcoin, or Ether.
Investors in a Reg A+ offering may be accredited or non-accredited. Importantly, securities issued under Reg A+ are immediately transferable or tradable – something the crypto industry is extremely interested in as it may provide an easier path to better liquidity.
The Harvard Management Company is the largest university-affiliated endowment fund in the world. The Fund's 2018 report said the value of its holdings stood at approximately $39.2 billion. Over $1.8 billion was distributed to Harvard's operating budget during the fiscal year and the endowment rose by 10% during the same period.
The "Stack Token" is currently soliciting interest from investors also called "testing the waters" under the Reg A+ exemption.
The project by Blockstack will provide a "fast, scalable distributed ledger for identity, storage, and transactions in the Blockstack ecosystem."
Stack Token projects currently include decentralized storage, App mining, an SDK and a fund to support decentralized Apps (DApps).
Blockstack has previously raised capital from outside investors. A SAFT offering in 2018, under Reg D, raised $21.2 million from 683 investors.
Have a crowdfunding offering you'd like to share? Submit an offering for consideration using our Submit a Tip form and we may share it on our site!