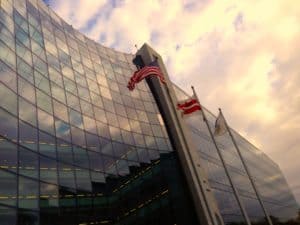 The Securities and Exchange Commission Office of the Advocate for Small Business Capital Formation has provided additional details on the upcoming Roundtable scheduled for May 6th. The Roundtable was announced yesterday and is scheduled to take place the same day as the first meeting of the reconstituted Small Business Capital Formation Advisory Committee on Small and Emerging Companies.
SEC Chairman Jay Clayton and the other Commissioners plus SEC staff will participate in the event.
The Roundtable is scheduled to coincide with National Small Business Week, which is May 5-11.
Participants in the Roundtable are expected to "explore ways to encourage the efficient flow of capital and expand investment opportunities."
The panelists will include:
Cathy Connett – CEO and Managing Partner, Sofia Fund, Minneapolis, MN
Bob Crutchfield – Managing Director, BrightEdge Fund, Atlanta, GA
Harold Hughes – Founder and CEO, Bandwagon Fan Club, Greenville, SC
Nic Wilson – Co-Founder and CEO, Anglr, Pittsburgh, PA
Following the roundtable, from 1pm to 3:30pm ET, the SEC's Small Business Capital Formation Advisory Committee will hold its inaugural meeting. The Committee will hear from Bill Hinman, Director of the Division of Corporation Finance, on the SEC's capital formation initiatives.  The Committee will then begin to outline its next steps and discuss areas of focus for the coming months.
Both events are open to the public and will be held at the SEC Headquarters in Washington, DC. The events will also be live-streamed on the SEC's website.