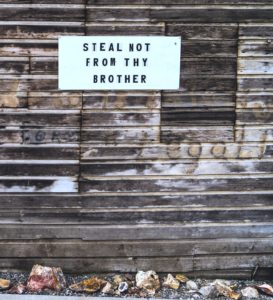 160 Bitcoins stolen in a massive hack on the Bitfinex cryptocurrency exchange in 2016 started moving across the blockchain late last week after being dormant for more than 2 years, Hard Fork reports.
The cryptocurrency is part of a stash of 744 408 Bitcoins taken from Bitfinex by hackers in the breach.
At the time, the hack was the second largest (after Mt Gox) in the history of crypto, and, Bitfinex says 119,756 bitcoins were stolen.
The current value of 119 756 bitcoins is well over a billion dollars.
The movements of a portion of the stolen coins were first reported in a series of tweets from the account "Whale Alert" on June 7th:
⚠ 17.03 #BTC (137,514 USD) of stolen funds transferred from Bitfinex Hack 2016 to unknown wallet

— Whale Alert (@whale_alert) June 7, 2019
Whale Alert is a Twitter account dedicated to, "Live tracking of large crypto transactions from and to exchanges for #BTC, #ETH, #XRP, #USDt, #EOS, #BNB, #XLM, #NEO, #TRX, #XTZ, top 100 #ERC20."
According to Hard Fork, the coins started moving June 7th at 7 AM UTC (GMT).
When the news of the coin movements broke, some users of crypto Twitter suggested that Bitfinex itself might have something to do with the movement of the coins.
In the white paper corresponding with Bitfinex's recent issue of a IEO (Initial Exchange Offering) called LEO, Bitfinex said it is:
"…is working with industry leaders to create a procedure to offer the hacker the chance to safely and privately refund the majority of the stolen funds while keeping a percentage of them as reward for collaborating in finally resolving this issue."
But Bitfinex spokesperson Anneka Dew told Hard Fork in an email that the coins are moving independently:
"We are not involved, and the movement is not tied to the procedure outlined in the UNUS SED LEO white paper."
In February, Bitfinex wrote in a blog post that is was "pleased to announce" that an unnamed US law enforcement agency had returned 27.66270285 of the Bitcoins stolen in the 2016 hack (worth $104 000 USD) to Bitfinex.

At the time of the hack, Bitfinex socialized the loss of the coins across exchange users by docking their accounts by up to 30% and issuing IOUs in the form of "BFX tokens," another token created by the exchange.

Bitfinex called the strategy "a unique approach" to handling the theft:

"Following the theft on August 2nd 2016, Bitfinex took a unique approach, generalising the losses across all accounts and crediting BFX tokens to customers at a ratio of 1 BFX to 1 dollar lost."

Affected users were later paid back exchange for redeeming their BFX tokens.

According to Bitfinex's February blog post:

"Bitfinex honoured its commitment to repay the losses. Within eight months of the security breach, all BFX token holders had their tokens redeemed at 100 cents…All BFX tokens were destroyed within this process."

Bitfinex also allowed holders of BFX tokens to convert BFX tokens into shares in Bitfinex parent company iFinex.

iFinex and Bitfinex have been accused by critics of "printing money."

Bitfinex is also the creator of controversial Tether "stablecoin," digital USD proxies purportedly pegged 1-to-1 to US dollars held in reserve by Bitfinex.

This year, Bitfinex came under powerful ex parte orders from the New York Attorney General's office, after the NYAG accused Bitfinex of using Tether reserve funds to cover operating expenses resulting from the seizure of $850 million USD in Bitfinex funds by authorities in Panama.

Bitfinex has petitioned in court to have the orders lifted and its funds un frozen

In 2017, anonymous Twitter naysayer "Bitfinexed" provided audio of Bitfinex CSO Phil Potter saying Bitfinex might repay users affected by the socialization of the Bitfinex hack by paying them back in Tether.

Sponsored