Yesterday, Stephen Moore, Donald Trump's controversial, former pick for a 14-year post on the US Federal Reserve Board, told Yahoo Finance that Facebook's new Libra crypto venture is, "on balance…a good thing."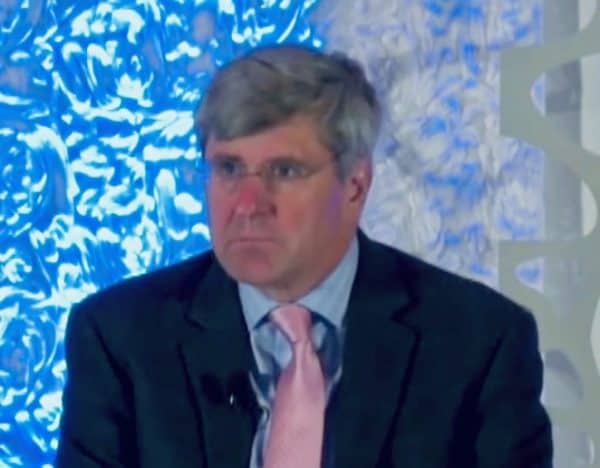 Moore said the coin implies "competition" for central banks:
"It's interesting, because [Facebook's Libra] represents a new challenge for central bankers that they now have competition from private currencies."
Today, Fox Business is reporting that "Moore…is now looking to start his own mini-Fed through the creation of a cryptocurrency product that is billing itself as 'the world's decentralized central bank.'"
According to an investor deck obtained by the outlet, the venture, called Decentral, "will attempt to perform Fed like duties in terms of regulating the supply of crypto in the same way as the Fed controls the supply of money for the U.S. economy, they contend. It will exchange its own new token for other cryptos; the supply of the new cryptocurrency will be tied to the value of the dollar or some other 'stable' valuation method and will be strictly controlled by an algorithm."
According to Fox Business, Moore met Decentral's team at the last SALT conference in Los Vegas, "a hedge fund and investing confab in early May run by Anthony Scaramucci of SkyBridge Capital."
Moore was speaking at the conference right around the time when he withdrew himself from the running for a seat on the Federal Reserve Board stating, "The unrelenting attacks on my character have been untenable for me and my family."
Moore's own controversial writings and comments, as well as claims of domestic violence, appear to have partly dashed his hopes of obtaining enough support for his bid among both Democrats and Republicans.
Moore has reportedly written about potty-training his son using a picture of Hilary Clinton as a bullseye and posting "gruesome" photos of Saddam Hussein's murdered sons on the family refrigerator to show his children, "this is what happens to kids that grow up to be Democrats!"
Though Moore's exact role as "chief economist" at Decentral remains unclear, the venture's chief marketing officer and former advisor to the Trump 2016 campaign, Michael Gruen, told Fox Business, "We were amazed with Steve's knowledge of the Fed and offered him a chance to come on board."
For his part, Moore told the outlet:
"I'm really excited about doing this…I hope it makes me rich."
Crypto merchant banker Mike Novogratz is a purported backer of Decentral, though he could not be reached for comment.
The investor deck for Decentral's "3 Token System" shows they plan to create "currency" tokens "printed by the network with variable supply," as well as "Decentral shares" and "Decentral bonds."
"Independent analyst," Chris Whalen told Fox Business that Moore's participation in the typically anti-establishmentarian cryptocurrency sphere is not surprising:
"Moore has never liked central banks… He wouldn't have been a traditional governor, so I think by joining a cryptocurrency outfit, he's being more true to himself than serving on the Fed Board."
But Whalen said he's still disappointed in Moore, stating that Moore's motives appear to be quite simple:
"I'm saddened Steve Moore would waste his time on such a thing…We keep seeing all the currencies springing up but none of them have any real credibility. Moore is trying to cash in on the gold run like everyone else."
Regarding Moore's latest foray, polarizing economist Paul Krugman tweeted:
Seriously, these days cryptocurrency is the last refuge of scoundrels https://t.co/RYxVZcNnnb

— Paul Krugman (@paulkrugman) June 25, 2019
Sponsored Links by DQ Promote