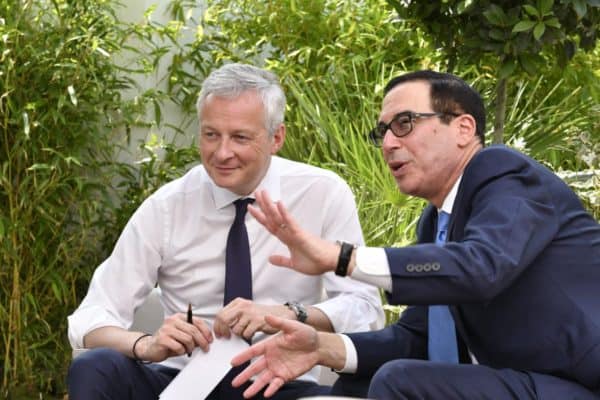 Bruno Le Maire, the French Minister of the Economy and supporter of cryptocurrency, has been tweeting about virtual currencies today during meetings of the G7 taking place in France.
Le Maire has been a vocal supporter of blockchain technology and a strong voice in support of creating a regulatory regime to enable initial coin offerings (ICOs). Expectations are for the first France based ICOs to be revealed by the Autorité des Marches Financiers (AMF) within weeks.
Le Maire tweeted that discussions at G7 have been very useful regarding virtual currency but "serious doubts have been expressed" about Facebook's Libra. "The members of the G7 want to act quickly," stated Le Maire.
Nos échanges sur la place et l'impact des monnaies virtuelles dans le système financier ont été très utiles. Des doutes sérieux ont été exprimés sur le projet #Libra tel qu'il existe aujourd'hui. Les membres du #G7Finance veulent agir vite. pic.twitter.com/vqzXNoo6VA

— Bruno Le Maire (@BrunoLeMaire) July 17, 2019
Additionally:
"Only states have the capacity and legitimacy to establish a sovereign currency. Private companies do not have that democratic legitimacy. The G7 works to provide answers to problems posed by virtual currency projects."
Seuls les États ont la capacité et la légitimité d'établir une monnaie souveraine. Les entreprises privées n'ont pas cette légitimité démocratique. Le #G7Finance travaille à apporter des réponses aux problèmes posés par les projets de monnaies virtuelles.

— Bruno Le Maire (@BrunoLeMaire) July 17, 2019
The French Minister was also pictured speaking with the Secretary of the US Department of Treasury, Steven Mnuchin. He said that the two do not always agree but they do agree on many issues and it is always important to listen and exchange ideas.
Earlier this week, Mnuchin expressed his concern regarding Facebook's Libra in a snap press conference. The statement by Mnuchin came in advance of Congressional hearings this week that slammed Facebook and its attempt to launch a stablecoin payments platform. In the past two days, Libra took a turn for the worse if the hearings are any indication.
Glad to have an opportunity to discuss key @G7 issues with @stevenmnuchin1. We don't always agree on all issues, but we do agree on many and it's always important to listen to each other, exchange and move forward. #G7Finance pic.twitter.com/cjq7e5feDc

— Bruno Le Maire (@BrunoLeMaire) July 17, 2019