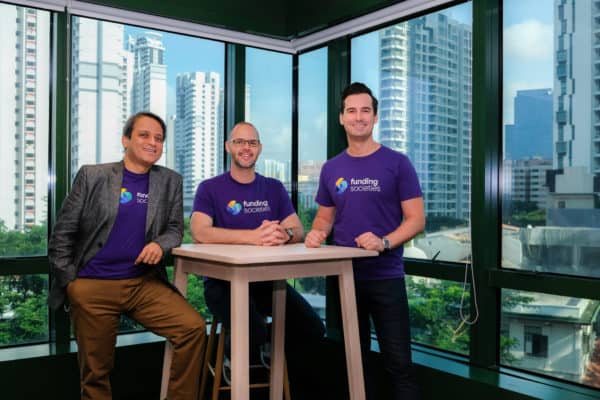 Funding Societies, one of the largest peer-to-peer (P2P) lending platforms in Southeast Asia, has revamped its executive team with new hires.
Funding Societies provides access to capital to SMEs crowdfunded by both institutional and individual investors. To date, Funding Societies reports over S$ 800 million in lending.
According to the Fintech, three leaders will join to "ensure that the business continues to progress in establishing financial inclusion for SMEs across the region."
Matt Lambie joins as the Chief Technical Officer, Dheeraj Chowdhry as the Chief Executive Officer and Jared Goldberg as the Chief Data Officer.
Kelvin Teo, co-founder and CEO of Funding Societies, explained that as their platform scope has expanded so does the need for diverse skills and knowledge of the ecosystem. Teo will take up the duties of Group CEO, a newly created position.
"Each new team member not only helps to bring us to the next level, but also further cements our conviction of enabling SMEs in Southeast Asia." said Teo.
Lambie will be responsible for web, mobile and platform software development efforts, technical operations, quality assurance and information security. Previously, Lambie was the Group CTO at MoneySmart.
Chowdhry joins as the CEO of Singapore with over 20 years of experience across multiple functions within large global banking organizations in Asian geographies including AMEX, ANZ Bank and ABN AMRO.
Goldberg comes in as the Chief Data Officer for Funding Societies with experience of almost 15 years in the Financial Services technology and data world. After graduating from Berkeley, he went on to begin his data-driven journey at UBS in the Credit Risk space as a Business Analyst. In his previous role at Standard Chartered he was the Head of Business Integration and Analytics function in its COO unit.
Funding Societies, also known as Modalku in Indonesia, is backed by Softbank Ventures Asia Corp. and Sequoia India. The platform provides business financing to small and medium-sized enterprises (SMEs), which is crowdfunded by retail and institutional investors as well as high-net-worth individuals.
In 4 years, it has helped to finance over 900,000 business loans at over S$800 million with licensed/approved operations in Singapore, Indonesia, and Malaysia.