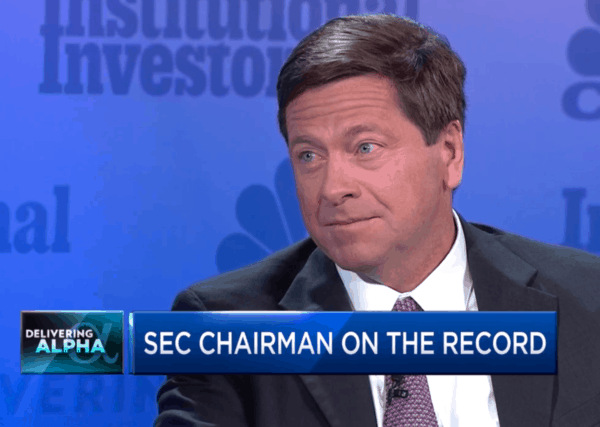 Today, Securities and Exchange Commission (SEC) Chairman Jay Clayton was interviewed by Andrew Ross Sorkin during the annual Delivering Alpha event produced by CNBC. During the interview, Chair Clayton took the opportunity to address the shifting landscape of the private markets in comparison to public markets in the US.
As Crowdfund Insider has written in the past, today the private capital markets are far larger than its public brethren. This was not always the case. But as the cost to go public and to remain a "reporting" company has risen, more and more promising companies are trying hard to remain private as long as possible. Simultaneously, big money has quickly learned that much of the wealth created by younger firms is taking place while companies are private. While this is not necessarily a bad thing it does cut out the public markets and smaller investors who are currently blocked from accessing most of the private securities offerings.
Clayton said, "a lot of growth is happening in our private markets." Are they as rigorous as the public markets? Of course not, acknowledged Chair Clayton, but a good number of participants are delivering "outsized returns" by investing in the private markets.
Asked about allowing "public investors" more access to private markets, Clayton had this to say:
"This is an issue," said Clayton. "If the growth opportunity has shifted, not all the way, but to a substantial extent into our private markets and ordinary investors do not have access to them, that's not good."
So what do we do about it?
"One of the things I like in the public markets, [is that] mainstreet investors invest right alongside institutions with the same deal. Virtually the same drag… they are all in it together," said Clayton. "Can we replicate that in our private markets? Now it is very difficult to do that on an individual basis. It's hard to give individuals direct access to our private markets. So one of the questions is can we have some kind of fund structure where we ensure that ordinary investors are getting the same deal as institutional investors."
Clayton added that he is concerned that public markets are being used more for liquidity than for growth (IE an exit as opposed to an entry point).
"We are having this debate," said Clayton, a reference to the SEC concept release regarding regulatory harmonization.
Current chatter regarding the SEC concept release (akin to a consultation) is the SEC will move on two issues. The definition of an accredited investor and providing a sophistication qualification, and the creation of private market funds accessible to retail investors. If these two changes do, in fact, take place, this will be a big win for smaller investors. This will also represent a solid victory for Chair Clayton and a lasting stamp on the US capital markets which may have a positive impact for smaller investors for decades to come.
The video is embedded below.
---
Clayton: Individuals, institutions play by the same rules in public markets from CNBC.
---
Sponsored Links by DQ Promote