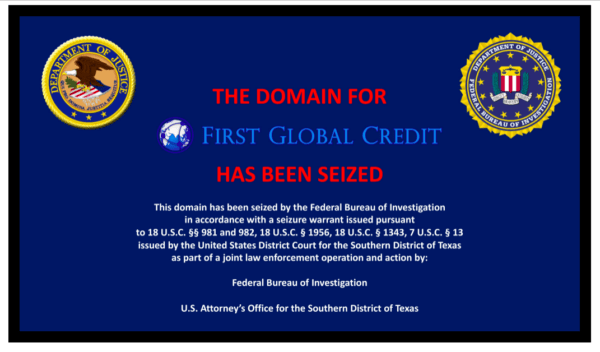 A Switzerland-based securities dealer called XBT Corp/First Global Credit has been charged and fined by the American SEC and CFTC for, "selling unregistered security-based swaps to U.S. investors using bitcoins and for failing to transact its swaps on a registered national exchange."
The company's website has been seized by the FBI and is now offline.
According to the SEC, swaps dealers selling to US investors must be registered under Dodd-Frank laws:
"First Global Credit used a variety of marketing methods to target and solicit U.S. individuals to deposit and use bitcoins to buy and sell a variety of investment products. Although First Global Credit used different terminology to describe the investments it offered, including 'bitcoin Asset Linked Notes,' investors were able to participate in the price movements of securities, including those listed on U.S. securities exchanges, without owning them. These types of instruments are considered security-based swaps under the U.S. federal securities laws. First Global Credit offered these swaps to U.S. investors without complying with the registration and exchange requirements governing security-based swaps, which were enacted as part of the Dodd-Frank Act."
David Peavler, Director of the SEC's Fort Worth Regional Office, said new terminology and new tech do not exempt investment-product dealers from having to properly register.
"Federal securities laws impose specific requirements for offering and selling security-based swaps to retail investors in the US," said Peavler. "These obligations cannot be avoided merely by describing the swap transaction by a different name or funding it with digital currencies."
The SEC says First Global Credit, "transacted with investors who did not meet the discretionary investment thresholds required by the federal securities laws."
As well, company allegedly, "failed to transact its security-based swaps on a registered national exchange, and failed to properly register as a security-based swaps dealer."
Without admitting or denying the SEC's findings, First Global Credit agreed to cease-and-desist operations and pay disgorgement of $31,687 and a penalty of $100,000.
First Global Credit must also pay back investors who lost money
In a parallel action, the CFTC announced a similar settlement with First Global Credit.
The company will also pay a fine of $100,000 to the CFTC and must, "disgorge gains received in connection with its violations, and to cease and desist from future violations of the Commodity Exchange Act (CEA)."
"This case demonstrates that the CFTC will hold intermediaries accountable if they solicit or accept orders without properly registering with the agency," said CFTC Director of Enforcement James McDonald. "This case also underscores that the Commission will continue working with our law enforcement and regulatory partners to ensure the integrity of our markets."
The CFTC writes that the trades in question took place between March 2016 and July 2017, when First Global Capital, "solicit(ed) or accept(ed) orders for futures from U.S. customers and by accepting bitcoin to margin their trades without being registered with the Commission…(and) accepted orders from U.S. customers for the purchase and sale of commodity futures listed on the Chicago Mercantile Exchange Globex trading platform."
---
SEC V. XBT Corp First Global Credit 10.31.19

---
Sponsored Links by DQ Promote