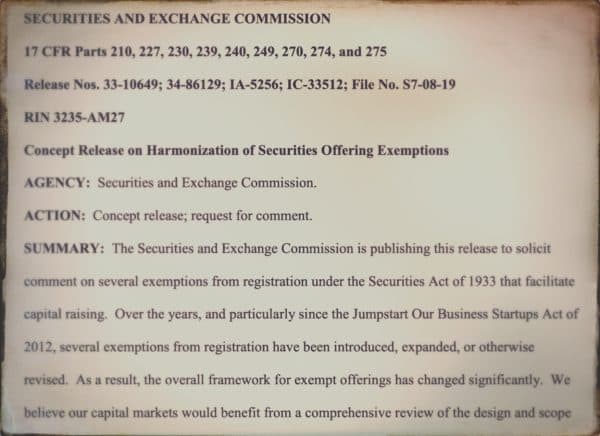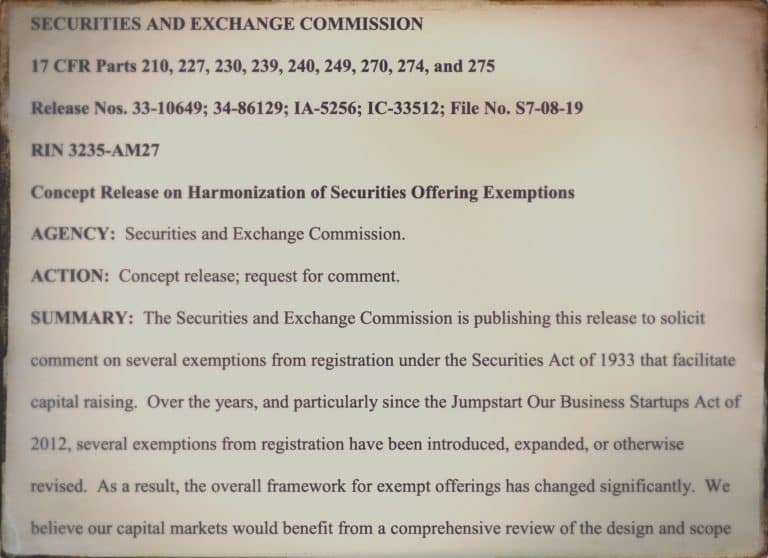 The Securities and Exchange Commission (SEC) announced a significant review of the securities exemption ecosystem in June of this year. During the past few decades, the Commission, with some help from Congress, has updated and added to the many rules that regulate private securities offerings.
In recent years, public markets have stagnated and declined while private markets have boomed. Regulation D (Reg D), the most popular exemption, is estimated to be a trillion-dollar market – annually. Reg D is clearly a success as this exemption helps the US maintain the most robust private markets in the world providing the capital necessary to fuel innovation that drives economic wealth and creates new jobs. But things can always be improved.
The exempt securities market may be described as convoluted at best and Byzantine to a casual observer. The goal to match capital to companies in need while maintaining a good degree of investor protection is simple in concept but simple does not mean easy. It is a never-ending balancing act that regulators must negotiate. If rules becoming excessively challenging, the flow of capital can be constrained. Then we all lose.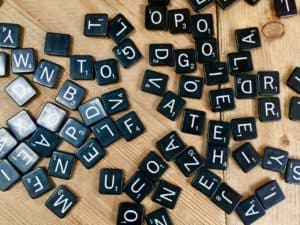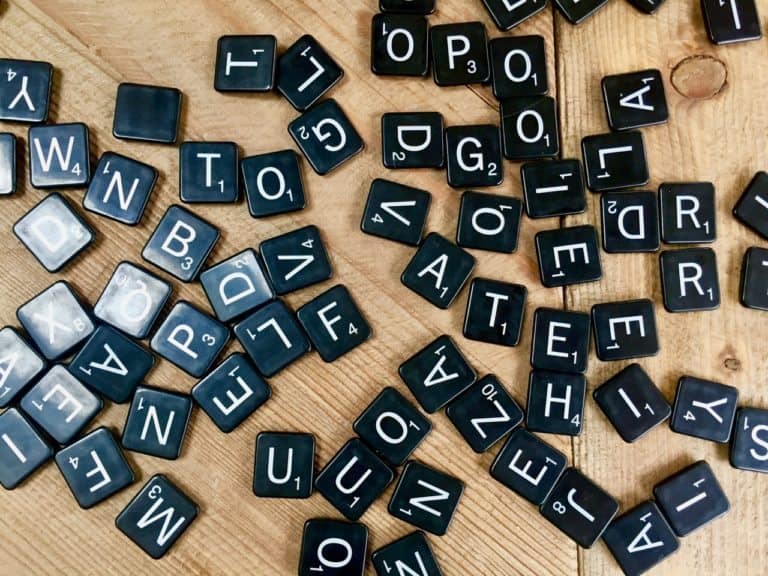 Additionally, as private markets have risen much of the population has been cut out of the wealth creation equation as Reg D is only for accredited investors.
During the Obama administration, the JOBS Act of 2012 attempted to improve the exemption ecosystem. The admirable act of bipartisan legislation accomplished part of its goal but many observers recognize additional improvements are needed. An update to the definition of an accredited investor may be the most obvious fix as the current rule is based on a wealth metric that disregards investment acumen and experience.
The SEC should be lauded for this project seeking greater regulatory 'harmonization." SEC Chairman Jay Clayton's tenure at the Commission will be defined upon the results of the concept release project as it is an opportunity to remove some of the barriers to capital formation while democratizing access to investment opportunities. As part of the initiative, dozens of comments were submitted to the SEC displaying a good amount of diversity in perspective. At some point in the coming months, the SEC will take the next step and, perhaps, update some of the many rules that guide access to capital in the US.
Crowdfund Insider recently contacted Doug Ellenoff, Managing Partner of Ellenoff, Grossman and Schole, a Manhattan law firm that has been at the forefront of financial innovations such as investment crowdfunding. Ellenoff is well known within the hallways of the F Street offices of the SEC and is frequently asked to participate in events addressing online capital formation. He is also counsel to the Association of Online Investment Platforms (AOIP).
CI spoke with Ellenoff for his perspective on what the SEC's consultation on the concept release may achieve. Our conversation is shared below.
---
There are two facets of the SEC's concept release that are currently expected to see action by the Commission. The first is an update to the Definition of an Accredited Investor. Do you expect a sophistication qualification? Something else?
Doug Ellenoff: There isn't a lot of mystery, all of the chatter seems to point to SEC broadening the definition so that additional qualified citizens/ those that can make informed investment decisions and appreciate the associated risk will be included in the expanded definition.
How broad the definition will be increased and what experience and degrees an investor you will need to possess is currently being debated and ironed out.
all of the chatter seems to point to SEC broadening the definition so that those that can make informed investment decisions & appreciate the risk will be included in the expanded definition
The other item that SEC Chairman Jay Clayton has been messaging is providing access to Funds investing in private equity to retail investors. What are your thoughts on that?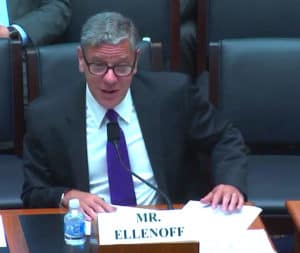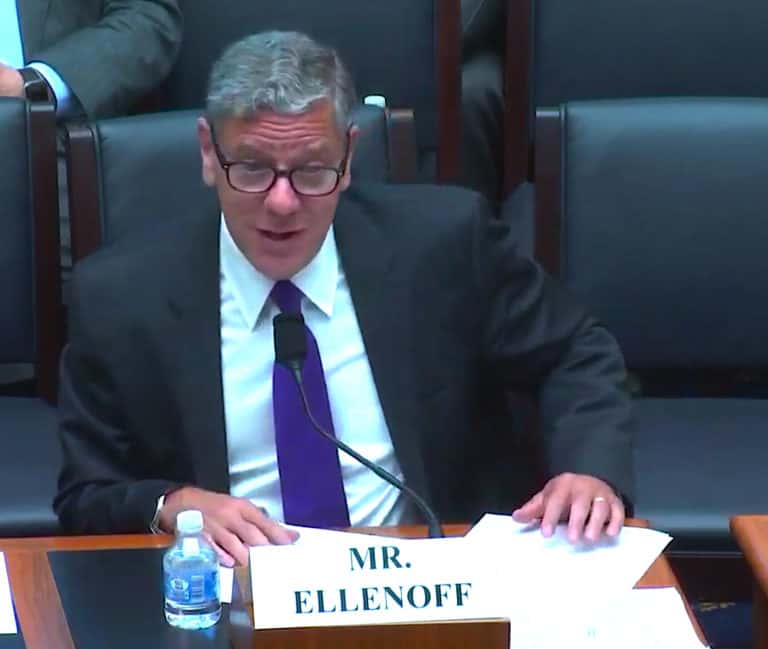 Doug Ellenoff: I actually don't have much visibility on this issue, although I have heard it mentioned, this just seems to have much more sensitivity and complexity, so I'm uncertain of how they may approach it.
While the article you cite, indicates that PE returns are better with less volatility, there are many periods of time historically where I don't believe that is true, as well as, the liquidity profile is obviously different.
I do think however that the object to "retailize" PE is a good idea and one which we have been encouraging of but through the public markets with our SPAC program, which enables the public to co-invest with very well recognized and credentialed PE sponsors.
The Concept Release and attempt to "harmonize" the securities exemption is a Herculean task. What are some other improvements you would like to see?
Doug Ellenoff: The SEC must be credited with advancing this significant undertaking and appreciation expressed to all those that took the time to comment.
With the enlightened passage of the JOBS Act in 2012, the lines of distinction between what is a public offering versus a private placement have become discernible by fewer and fewer professionals and certainly not the public.  While I believe in the utility of many such private placement offering exemptions, I am concerned about the routine failure to comply with them and the potential for abuse by issuers.
Correspondingly,  innocent violations may be met with overly aggressive regulatory fines and consequences, which is equally concerning.
The objective to streamline it makes complete sense to me.  For the reasons I supported Regulation Crowdfunding [Reg CF], I believe in graduated regulation and risk allowance with measured differences between this with differing investment means but recognizing that any and all investors must have access to all asset classes.  The consequences of prohibiting retail investors is disenfranchising which I believe is fundamentally wrong.  However, to be clear I do think engineering enlightened guardrails makes sense too.
The SEC must be credited with advancing this significant undertaking and appreciation expressed to all those that took the time to comment
How much of this will the SEC be able to accomplish unilaterally? What will need Congress's intervention?
Doug Ellenoff: The SEC has considerable rulemaking authority to make the changes it believes necessary and anything where they believe that they need Congressional approval or support I would be confident that they will obtain since harmonization itself is in everyone's best interest.  Only where there is a concern for investor protection might there be pushback in the House in particular.
In comparing the current regulatory regime to other jurisdictions, such as the UK, are there lessons the US can learn?
Doug Ellenoff: I wouldn't begin to presume enough knowledge or experience to respond to that particular question but can observe with regards to Regulation Crowdfunding that the UK has been much more engaged both from a regulatory and commercial perspective.
The result being that the level of activity has been more substantial as well as the period of time it took to take footing was accelerated.
On the other hand, with respect to crypto, in particular, I am more supportive of a cautious approach.
This isn't to say at all to put the brakes on it but rather for all of the constituent parties to come together and responsibly address the issues openly and candidly.  The jurisdictions that are taking a laissez-faire attitude under the guise of promoting innovation are taking on too much risk in my judgment without ensuring proper investor protection.  With any new innovation that involves investors, it is incumbent on all of the relevant constituent parties to hash out the issues thoughtfully and quickly.
Regulators need to learn to encourage discourse and moving more expeditiously rather than just frustrate advancement and avoid decisions.  By simply seeking to protect their own individual markets, regulators in each of the developed economies are effectively encouraging smaller countries to permit prohibited activity under the guise that such innovation is necessary as opposed to merely fostering commerce in their own jurisdiction.  By saying and doing nothing, U.S. regulators incentivize entrepreneurs to arbitrage the laws elsewhere.
By saying and doing nothing, U.S. regulators incentivize entrepreneurs to arbitrage the laws elsewhere
SEC Chairman Jay Clayton has said he wants to improve access to exempt offerings to retail investors while improving public markets. What needs to be done to improve public markets? IE the IPO market?
Doug Ellenoff: Along with my co-founder Sherwood Neiss, we believe that providing updated and ongoing disclosure (legal and financial) of private companies (including blockchain opportunities) to retail investors at the point of purchasing secondarily traded securities through approved alternative trading systems will create liquidity and give retail investors investment opportunities that they have been largely excluded from accessing.
With our new disclosure technology company, GUARDD, we are seeking to facilitate secondary trading of illiquid securities, including tokens.
rOur platform would provide audited financials and current and updated disclosure and be made available through trading systems and news feeds.  We believe that this approach is consistent with the Chairman's prior statements and satisfies the regulatory concerns presented by secondary trading.
Any thoughts on when we may expect action on these issues?
Doug Ellenoff: No visibility.

Sponsored Links by DQ Promote