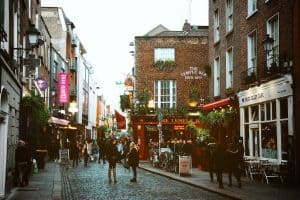 San Francisco-based crypto exchange Coinbase is reportedly expanding its institutional custody business through the establishment of a new office in Ireland, the company confirmed on January 29.
Coinbase first introduced Coinbase Custody in 2017, in order to better serve its institutional clients, which include major hedge funds and established family offices. Following the launch of the exchange's custody services, its assets under management (AUM) have notably grown to more than $9 billion, partly due to its recent acquisition of institutional custody service provider Xapo. Coinbase currently holds nearly 1 million Bitcoin (BTC) in its cold storage wallets, which is considerably more than any other entity in the world.
The company's new division, called Coinbase Custody International, will be located in Dublin, Ireland.
Coinbase Custody has been offering services in the European market for several years, including its growing customer base in the UK, Switzerland, Germany, and the Netherlands. The firm's international launch of its custody services will aim to better meet the requirements of clients in Europe.
The firm explained:
"By offering our services from the same region in which our clients are located, it's our goal that they will benefit from greater legal and regulatory clarity."
The exchange says it will add support for more digital assets and staking services for more crypto-assets besides Tezos (XTZ). Notably, Coinbase's main competitor, Binance.US, has also announced plans to introduce staking services for Algorand's ALGO token (among other coins), a service it had already been offering in other jurisdictions.

The expansion of Coinbase's services into the region has come shortly after Fidelity Digital Assets began offering custody services for Bitcoin in Europe.

Coinbase also announced on Wednesday that it appointed Google's former VP of product, Surojit Chatterjee, as its new chief product officer. The company says that Surojit will play a key role in making the crypto-economy accessible to millions of more people through its suite of products.

Sponsored Links by DQ Promote