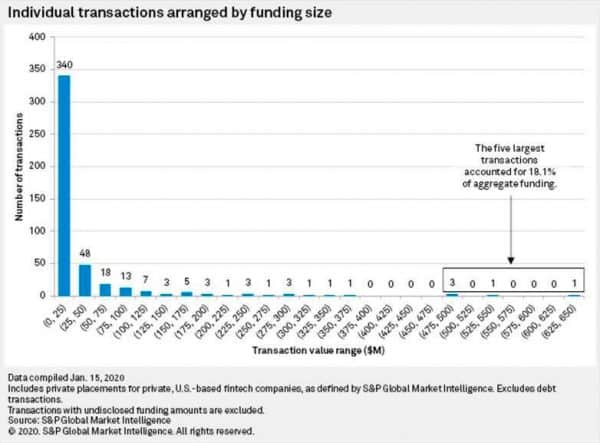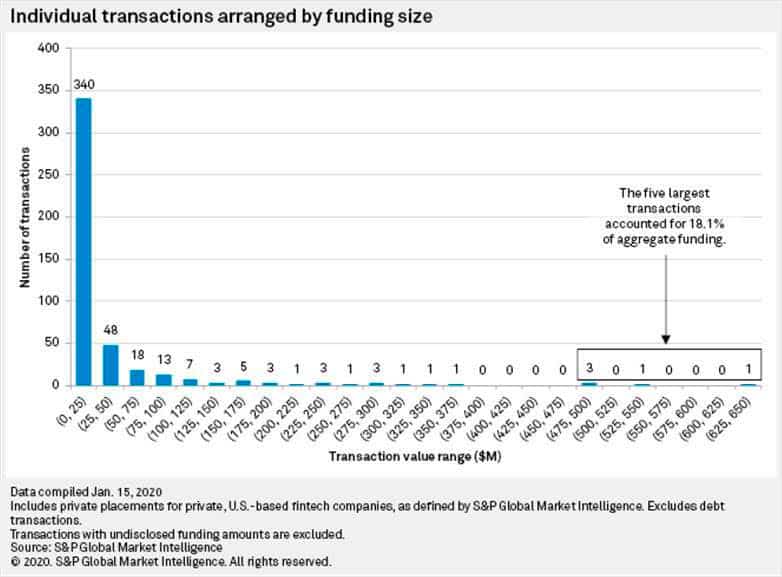 We have already seen multiple Fintech funding reports for 2019. Today, S&P Global Market Intelligence is distributing their spin on the numbers targeting the US only.
According to this report, Fintech companies in the US raised $14.8 billion in 2019.
Of the six Fintech segments S&P tracks, Insurtech stood out with the largest total amount raised.
Insurtech saw $3.8 billion of funding in 2019 buoyed by an outsized investment in Bright Health Management Inc. in December.
Online lending (or digital lending) and payments were pegged about the same as the year prior at $3.2 billion. The report indicated that digital lenders "required about 39% fewer transactions to hit that mark," thus the overall value per transaction significant and was, in fact, the highest value per transaction of any other Fintech segment.
Digital banking also saw several large transactions as this sector of Fintech gains velocity.
Chime raised the most capital of any individual US fintech company in 2019, according to S&P. The definition of banking is being blurred as a growing number of financial service firms are providing bank-like services without becoming federally chartered banks.
Varo Money, a Fintech that has received approval to operate as a bank, is the exception – not the rule, as regulatory arbitrage is how most Fintechs work around the rules.
A new batch of digital banks is in the queue. LendingClub has acquired a digital bank – Radius. Square has filed for an industrial loan charter. And several UK challenger banks have crossed the Atlantic to compete in the marketplace.
Of course, many observers are watching Big Tech, think Apple, Amazon, Google, etc., as potential disruptors.
The top 10 largest Fintech transactions in the US during 2019, included:
Bright Health Management – Insurtech: $635 million
SoFi – digital lending: $539 million
Chime Financial – digital banking: $500 million
Clover Health – Insurtech: $500 million
Mission Lane – Payments: $500 million
Root Insurance – Insurtech: $360 million
Fundbox – digital lending: $326 million
Robinhood – investment tech: $323 million
Affirm – digital lending: $300 million
Lemonade – Insurtech: $300 million