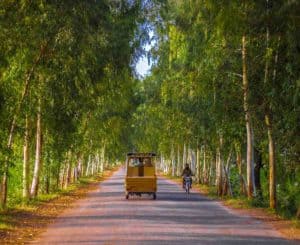 Pakistan still has a very large informal economy, meaning many (or most) transactions are still settled with cash. The majority of the nation's residents do not have access to a bank account or modern financial services.
However, local Fintech and digital wallet solution providers such as EasyPaisa, JazzCash, and SadaPay (among others) are helping many people conduct online transactions. Pakistani residents are able to make bill payments through various mobile apps.
SadayPay aims to "eliminate the complexity of banking and simplify money through modern tech and delightful customer experiences." Established in 2019 and headquartered in Islamabad, SadaPay brings modern financial services to Pakistan, where 87% of more than 218 million residents are formally unbanked.
The SadaPay team notes that Pakistan's economy continues to rely "heavily" on cash.
Atyab Tahi, Country Manager, Mastercard, claims that Pakistani residents have begun to increasingly conduct digital payments following the COVID-19 outbreak.
The SadaPay team writes in a blog post:
"As a health precaution, people are moving away from cash and are now using debit cards and online payments to move money. While the statistics for this COVID period show that things are moving in the right direction with regards to digitization, the bigger picture tells us that it is still not enough; Atyab calls it 'a drop in the ocean.' 88% of the transactions made in Pakistan formally are based on cash. Informally, the numbers are even bigger."
Mo Ali Yusuf, Vice President MENAP, Checkout, believes it's absolutely necessary for companies and service providers to provide digital channels of payments. He explains that businesses can improve the efficiency of their operations if they adopt the latest Fintech solutions including supporting virtual payments.
The SadaPay team notes:
"When it comes to (cash on delivery) COD, the e-commerce community in Pakistan seems divided, and is finding it hard to balance the efficiency of digital payments on one side of the equation, and the necessity of COD on the other side." 
Atyab says that merchants might not realize the true or actual cost of using cash.
The SadaPay team states:
"Several aspects of this cost may appear to be trivial when seen in isolation. But the cumulative numbers show it is a serious loss. During e-commerce transactions that are based on cash, millions of mutilated bills find themselves in the hands of the vendors at the end of the business chain. Similarly, cash becomes a security threat from the time a customer pays to the time it is deposited in a bank account." 
They add:
"A seller is vulnerable to losses when the customer returns the product without paying for it, after all the costs that go into delivering that product. Research shows that cash loses 1%-2% of its value from the time merchants receive it to the time they use it again, while the overall cost of cash on a month-to-month basis is 3-4%."
Although Pakistan still has a very large cash based or informal economy, it seems that an increasing number of businesses are adopting Fintech solutions.

Checkout.com recently signed an MoU with Pakistan's largest transactional clearing facilitator to offer better digital payment options in the country.

Achieving financial inclusion still remains a  significant challenge in Pakistan, according to a Fintech sector executive, but new products are being developed.

Pakistan's EasyPaisa, a leading digital wallet provider, recently partnered with the Rawalpindi Chamber of Commerce and Industry to support virtual payments. The Digital Pakistan Initiative is making progress, as the nation's digital banking infrastructure is being upgraded, but many more improvements are needed.

Sponsored Links by DQ Promote