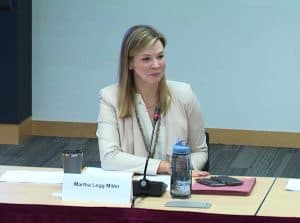 The Securities and Exchange Commission has posted the agenda for the meeting of the Small Business Capital Formation Advisory Committee.
According to a release, the Committee's morning session will feature representatives from exchanges and platforms who will share some of the trends and dynamics they are observing regarding smaller public and later-stage private companies.  They will also explore the extent to which recent innovations are impacting smaller companies interested in accessing the public markets.
In the afternoon, the Committee will discuss equity compensation in today's digital economy, including the Commission's recent proposals to modernize the framework that allows employees and other workers to receive equity compensation from their company.
The SEC's Office of the Advocate for Small Business Capital Formation, which supports the Committee, released an overview video that illustrates the changes that would result from these two proposed rules.
The Committee meeting will take place on January 29th from 10 a.m. through 2:30 p.m. ET and will be webcast live on SEC.gov.
The agenda is below.
10:00
Call to order; Introductory Remarks by Commissioners
10:15
Overview of Annual Report from the SEC's Office of the Advocate for Small Business Capital Formation

Sebastian Gomez Abero and Jenny Riegel of the SEC's Office of the Advocate for Small Business Capital Formation will provide an overview of the Office's FY2020 Annual Report, with a focus on the state of small business capital formation. The report includes data from various segments of the market and provides perspective on the impact that the COVID-19 pandemic is having on small businesses, including small and emerging businesses, mature and later-stage businesses, and small public companies. The report also provides data on challenges faced by minority- and women-owned businesses, businesses in communities affected by natural disasters, and rural businesses.

10:45
Pulse of the Public Markets

The Committee will explore what is happening with smaller public companies. While large IPOs tend to get press coverage, the Committee will discuss trends among smaller public companies that may not be making it into the news. Representatives from trading venues will share some of the dynamics they are observing regarding smaller public companies, as well as innovations that are taking place and how the markets are responding.

Martin Alvarez, Chief Commercial Officer, Long Term Stock Exchange
Cass Sanford, Associate General Counsel, OTC Markets Group
Jeff Thomas, Senior Vice President, Head of Western U.S Listings and Capital Markets, Nasdaq
John Tuttle, Vice Chairman and Chief Commercial Officer, NYSE Group

12:15
Lunch Break
1:30
Compensatory Offerings for Workers

On November 24, 2020, the SEC proposed amendments designed to modernize the framework that allows employees and other workers to receive equity compensation from their company. The Commission issued two proposals for public comment:

A package of technical updates to Securities Act Rule 701 (which provides an exemption from registration for the issuance of compensatory securities by non-reporting issuers) and Form S-8 (the Securities Act registration statement for compensatory offerings by reporting issuers); and
A five-year pilot program subject to percentage limits, dollar limits, and other conditions, that would permit an issuer to provide equity compensation to certain "platform workers" who provide services available through the issuer's technology-based platform or system.

Committee members will discuss the two proposals and their experiences with equity compensation.

2:30
Wrap-up and Adjournment
Sponsored Links by DQ Promote