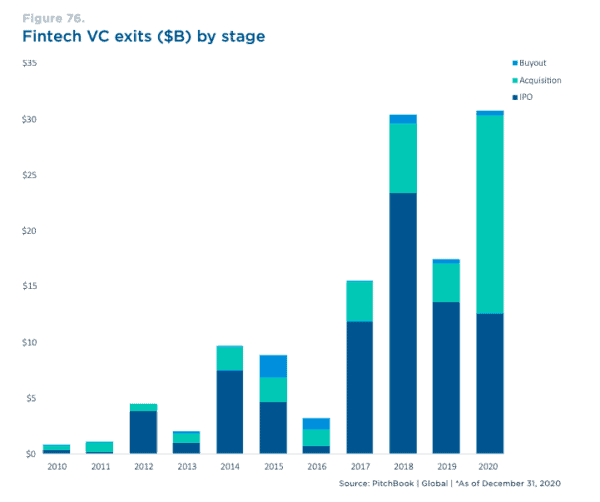 In the midst of a global health crisis, Fintech appears to be one of the big winners, according to a recent research report.
As outlined by Pitchbook, Fintechs raised $44.4 billion in venture funding across 2,581 deals during 2020. This is a year-over-year increase of  7.9% deal value.
If you remove Ant Group from the equation, a company that raised a whopping $14. billion in 2018, 2020 was a record year for Fintechs.
In Q4 alone, Fintechs raised a respectable $12.3 billion in venture funding, a 13.8% increase from Q3. Later stage firms are garnering the bulk of the funding as 74.2% went to more established firms as investors sought out less risky deals.
Of note is the fact that Asia, once dominated by China, has lost its pole position when it comes to Fintech funding as North America is the king of the hill when it comes to the dollar volume of Fintech deals.
During 2020, the top Fintech deals include:
Loanpal – $800.0 million
Robinhood – $668.3 million
Chime – $533.8 million
As Fintechs mature, a growing number are experiencing exits – initial public offerings or mergers.
Top Fintech exits during 2020 include:
Intuit (NASDAQ: INTU) acquisition of Credit Karma  for $7.1 billion
PayPal's (NASDAQ:PYPL) acquisition of Honey for $4 billion
SoFi's acquisition of Galileo for $1.2 billion
Personal Capital's $1.0 billion acquisition by Empower Retirement.
The following companies completed an IPO:
Lemonade (NYSE: LMND)
nCino (NASDAQ: NCNO)
Upstart (NASDAQ: UPST)
Expectations are for a strong IPO market in 2021, including SPACs, as many big names have already floated shares and others are working on the process.
Some other key points of the research report:
Online lenders are feeling the pressure due to COVID and the need to be able to access low cast capital.
Off the shelf products like Lending as a Service (LaaS) or Banking as a Service (BaaS) services is lowering the barrier to entry for aspiring Fintechs
More Fintechs will pursue national bank charters to remove the reliance on already chartered banks while being able to offer more services, like deposits, which can then be utilized to originate loans at a lower cost of capital.
As always, regulation means a key obstacle to growth. A fun fact shared by the report is that Varo Money took over three years and spent OVER $100 million to acquire a national bank charter. Think about that.
Overall, this is a very good report.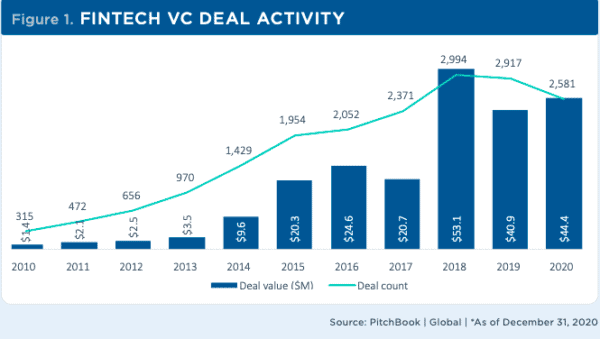 Sponsored Links by DQ Promote