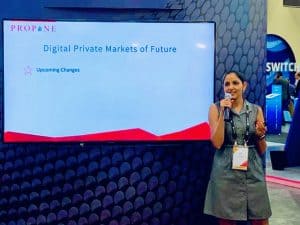 Propine, a Singapore-based, Monetary Authority of Singapore-licensed digital asset custodian, has entered into a partnership with XinFin (XDC), a Singapore-based hybrid blockchain platform to provide on-chain custody for the XDC Network.
The partnership will allow the XDC ecosystem to see security and fully compliant and insured custody service, together with layered governance and security practices built in for safe maintenance and delivery. Under the agreement, Propine has developed the software solution and integrated it with XinFin to serve the blockchain users.
Propine provides a suite of custodial and asset servicing solutions to accredited and institutional investors. The solutions safeguard digital assets through segregated blockchain-based wallets, enable trading through integrations and partnerships, and offer a range of corporate action distributions for any form of capital market products.
"We are excited about our alliance with XinFin – a blockchain designed to tackle challenges in international trade finance tokenization," Propine co-founder and CEO Tuhina Singh said. "They combine a public blockchain with a private network in order to get the best of both worlds."
"As a customer-focussed custodian, our foremost concern is the safety of crypto and other tokenized digital assets like NFT. With the increasing institutional demand for greater security, ease of use, and compliance, we are constantly challenging ourselves to improve our infrastructure that is able to bridge the gap between different blockchain ecosystems while enabling clients to benefit from our blockchain-agnostic custody services."
The digital assets held in Propine's ProTect digital asset custody platform are covered by insurance, in accordance with the regulatory requirements of MAS.
"This integration brings together the best of regulated traditional institutional products expertise to the tokenized ecosystem, we see this step as the next step in the evolution of the growing digital/tokenized assets ecosystem being built on the XDC network,"XinFin XDC Network co-founder Ritesh Kakkad said.
Sponsored Links by DQ Promote