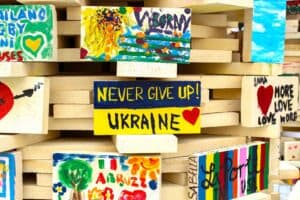 In order to support victims of the unprovoked Russian invasion of Ukraine, digital asset firm Kraken is preparing an aid package distributing more than $10 million "directly to affected clients."
Beginning on March 10, 2022, and running until July 1, 2022, Kraken customers who created an account from Ukraine before March 9, 2022 will be "eligible to receive $1,000 in bitcoin that can be immediately withdrawn from our exchange."
Currency conversion fees "up to $1,000 will also be waived at this time," the update confirmed.
Jesse Powell, CEO of Kraken, stated:
"We hope to continue being able to provide critical financial services in a time of need to both our clients in Ukraine and in Russia. Cryptocurrency remains an important humanitarian tool, especially at a time when many around the world can no longer rely on traditional banks and custodians."
As part of the effort, Kraken will also "donate an amount equivalent to the total trading fees paid by Russia-based clients in the first half of 2022 to the aid package." Further, additional aid may be "announced as the crisis continues to unfold."
The announcement marks the "first-ever" international aid distribution by Kraken. It also represents their "continuing effort to align our business with the values of the cryptocurrency community and its firm belief that all global citizens should have access to financial services. This includes their clients in Russia, who may be "actively trying to protest the ongoing conflict."
Kraken remains active in responding to requests "by governing authorities in affected regions, and our 600-person compliance team is continuously monitoring the situation to ensure we are abiding by relevant sanctions requirements."
The firm says it believes this aid program benefits their company and their clients, "ensuring none are disenfranchised by the actions of their representatives and leaders."
More details on the distribution and its eligibility requirements may be accessed here.