AI solutions development
In the 21st century, artificial intelligence for business is like the invention of electricity over a century ago. Nowadays, AI technologies are also revolutionizing the work of all sectors of the economy. The main thing is to properly implement AI in your business. Hundreds of businesses have failed, spending millions of dollars in the pursuit of innovation. Meanwhile, it is worth starting small to achieve great things. We'll tell you how to do it.
The case at MD Anderson Cancer Center has shown that one should not overestimate one's capabilities. The center relied on the IBM Watson system to help diagnose certain forms of cancer and prescribe treatments. The company did not consider its financial reserve. When the costs exceeded $62 million, the medical center closed the project. But the system was only at an experimental stage.
The example mentioned above shows that it is necessary to automate workflows gradually. You should assess your strengths and financial capabilities to realize what type of AI will help you to solve a specific business problem.
AI: five technologies in one
AI models the human mind to solve business problems. Calling a single application "artificial intelligence" is like calling Tesla a "vehicle". You can't go wrong technically, but you won't cover the details. To solve a business problem, you need to distinguish the main types of AI.
---
Type 1. Machine learning
Thanks to ML, businesses deal with excessive information every day. Data analysis is continuous in machine learning. The algorithm evaluates the information, finds inconsistencies in it, and warns employees of a plant about them. Automation ensures the enterprise against emergency breakdowns and serious downtime.
Type 2. Deep learning
Deep learning is a more "advanced" version of machine learning based on neural networks. It possesses non-linear thinking and solves more complex problems – computer vision, translation into foreign languages, writing texts, and so on.
Type 3. Natural language processing
You trigger NLP when you ask your voice assistant to order a taxi or tell you the latest news. In this case, the device "hears" a living human language, "understands" it, and translates it into a set of predefined actions.
Type 4. Cognitive computing
CC mimics human behavior and thinking to solve numerous problems. It does not substitute humans, as artificial intelligence does. It reproduces the way a person thinks.
Type 5. Computer vision
This AI type processes text, photo, and video data. Algorithms automate tasks for which humans use their eyesight. This technology can be used to search for defects in production or a video surveillance system.
What business needs does AI address?
It will take a long time to list what tasks AI solves for business. We will focus on the three most important ones from the standpoint of entrepreneurs.
Automation of business processes.
Typically, companies automate administrative and financial operations:
data transfer from email and call center to recording systems;
replacement of bank or credit cards;
updating customer records;
processing messages from clients;
"reading" legal documents and so on.
Data analysis.
This is the second most important area of AI application. Algorithms analyze information, find patterns, and highlight information vital for the business.
Data analysis is used to:
predict what a certain customer will buy;
understand that a bank card was stolen, and block access to fraudsters;
monitor the status of devices or IT infrastructure;
predict risks for insurance companies and in many other situations.
Communication with clients.
Projects with chatbots, intelligent agents, and natural language processing technologies are slightly less common. They usually help customers 24/7 and provide technical support.
Companies also state that AI enhances application productivity, frees employees from routine tasks, improves marketing and sales, and helps to enter new markets.
Four steps to adopt AI in your business
As you can see, AI solves many problems. How do you know what your own business needs?
To realize this, you should do the following:
Research the technology.
Before implementing AI, an organization must understand what it needs for the business. When an enterprise understands what it is dealing with, it is more willing to implement innovations in its work.
Determine your capabilities.
Before starting an AI project, it is worth deciding which workflows need to be improved and what changes will bring the maximum benefit to the business. To do this, evaluate:
Once the problem is identified, you need to evaluate how difficult it is to implement AI in your business. You should calculate the approximate benefits that artificial intelligence will bring, and compare investments and their payback. Finally, you should find an AI development company that can help you to develop and implement an AI solution.
Launch a pilot project.
Before implementing AI in a production environment, it is worth testing its functionality in experimental conditions. This means testing a pilot project. This is especially important for critically important working areas.
When considering AI solutions development, decide what processes you want to automate. Some organizations trust AI 80% of tasks, while others confine themselves to 20% only. Choose the optimal ratio of manual and machine labor for your company. Machines will be able to compensate for human weaknesses.
Adopt AI in your business.
This is the most difficult technical process because AI supports individual tasks and not the entire work. An AI application needs to be properly implemented into existing systems. Usually, this task is solved by a technology partner – an IT company that leads your AI project from start to finish.
What are the benefits of AI for businesses?
Businesses are becoming so complex and dynamic that people can no longer manage them without artificial intelligence. 26% of the companies surveyed by Deloitte said AI is helping them to stay ahead of the competition.
AI is beneficial for business because:
It improves customer service
Customers like it when a company takes care of them and can answer all their requests at any time of the day. Therefore, businesses use AI chatbots to help users 24/7. Customers who receive an immediate solution to their problem are less likely to turn to competitors. Forrester calculated that visitors who use chats are 2.8 times more likely to buy products.
It increases sales
AI analyzes information about consumers and generates individual recommendations for each of them. Netflix, Amazon, Shopify, and other companies analyze user preferences and offer personalized selections of movies, merchandise, music, and more. The AI that is embedded in these platforms predicts customer behavior based on past purchases. Users are more likely to purchase a product when they see relevant ads.
It helps to make the right decisions
Any business strategy is impossible without analytics. How to decide whether to open a branch in a neighboring country? Use analytics. How do you know if a site needs multilingual support? View web application statistics.
However, you need to be able to work with data to draw the right conclusions. AI automates this task. It transforms large amounts of data into meaningful information for the company. Based on it, it is easier for organizations to make business decisions.
It is responsible for inventory
It is unlikely that at least one warehouse item will "hide" from AI. The technology predicts when it is necessary to restock. It also analyzes how many units will be needed in a certain period. It indicates when the item will be delivered to the customer. And it performs other useful functions for warehouse operations.
It optimizes the selection of job candidates
AI automates the selection of potential employees. The technology analyzes candidates' CVs and leaves the most suitable ones in terms of skills. Artificial intelligence even evaluates the suitability of specialists for a position by video or audio recording of a conversation with a recruiter. This makes recruiting easy and fast.
When PepsiCo was forced to find 250 employees in two months, it turned to AI – to Robot Vera. The assistant conducted the first round of the interview. It talked to 1.5 candidates in one working day. It would take an HR specialist at least nine weeks to perform the same amount of work.
It improves work operations
Organizations that have implemented AI in their processes shared the results of "collaboration" with this technology with Deloitte. About half of the participants (44%) improved their current products with AI. The rest optimized their internal and external processes, improved their predictions, and freed employees from routine operations.
There are many options for how AI solves business problems and the global issues of humanity. The prospects for this technology are great, the main thing is to build the base correctly.
AI risks: how to overcome them
Despite the great enthusiasm of organizations and the prospects of AI, some companies are hesitant to adopt this technology. Organizations want to understand AI to control and fix it whenever necessary.
Most organizations are concerned about the security of AI solutions. Some of the enterprises are afraid of failures in the work of artificial intelligence or identity theft. Many are put off by uncertainty about the laws regulating AI. Others are concerned about the ethical issues of AI, job cuts, and retraining of employees.
You can allay all these "fears" if you follow the advice of Deloitte:
Track AI in the organization.
It is worth keeping a register of all models, algorithms, and systems to know where and how AI is used in an organization. This makes them easier to track and test.
Appoint an AI risk expert.
Competent specialists are needed to monitor AI and understand whether it is behaving correctly. It is worth hiring an in-house expert or a team of employees. You can also outsource control and support of AI systems.
Adopt AI ethics policy.
Security, lack of transparency in the work of AI, downsizing due to automation are issues of AI ethics. Organizations establish ethical standards to combat these risks.
With ethical principles, AI software development companies understand how to create and use this technology. It must not violate human rights, be safe and fulfill other customer requirements.
Conclusion
Artificial intelligence is already enhancing human activities in many areas. Gartner calculated that in 2022 the average number of AI projects per company will triple compared to 2020.
The AI technology is rapidly spreading from individual AI solutions development to enterprise applications with embedded AI. Today, those businesses that implement AI solutions gain a competitive edge over other companies.
---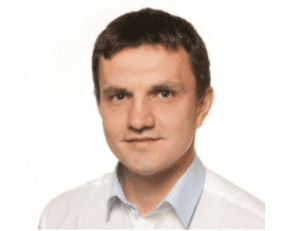 Alexandr Khomich is CEO at Andersen, a software development company that utilizes various technologies to create software tailored to a business's needs including financial services.
---
Sponsored