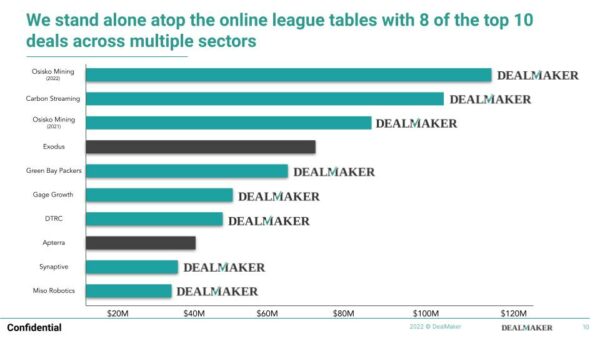 Dealmaker, a tech firm that aims to help companies raise more money faster, says it has been involved with 8 out of the 10 top online investment offerings to date.
This is inclusive of all exemptions (Reg CF, Reg A+, and Reg D 5o6c). Investment crowdfund, legalized under the JOBS Act of 2012, allowed private companies to leverage the internet to sell securities online line.
Under Reg CF, a company can raise up to $5 million; Reg A+ – up to $75 million; under Reg D an issuer may raise an unlimited amount of funds – at times company will pair Reg CF with Reg D as Reg CF can accept non-accredited investors while Reg D is only open to accredited ones.
Since 2021, numerous funding portals, broker-dealers, and other service firms have entered the sector to streamline the capital raising process. Dealmaker offers a "toolkit" to help complete a successful raise with an understanding there may be multiple funding rounds. This includes a CRM service as well as a shareholder management product and marketing assistance. Recently, Dealmaker announced that it was aiming to connect issuers in the UK to engage with investors in North America.