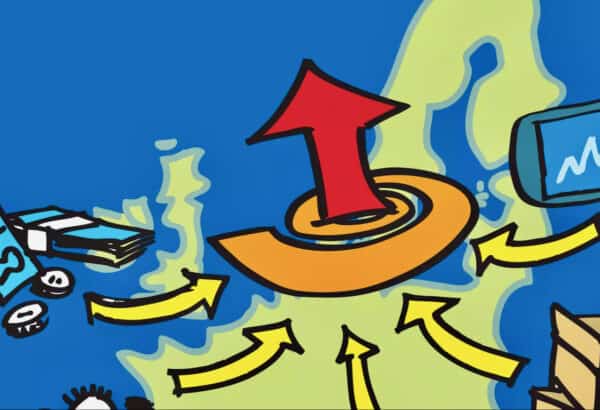 Ten years ago, a group of proponents published a document that outlined "A Framework for European Crowdfunding." The document was widely distributed as individuals interested in online capital formation shared the framework, looking to garner support among policymakers to enable securities crowdfunding.
The main authors included Kristof De Buysere, Oliver Gajda, Ronald Kleverlaan, and Dan Morom. But contributors represented wide-ranging perspectives and countries as the beginning of online capital formation started to generate interest. While many platforms have disappeared and some have moved on to pursue other projects, the document is a touchstone for the industry.
Referencing Joseph Schumpeter, the Austrian economist who spoke about creative destruction as innovation usurped established methods of business, the authors said that "new forms of economic activity may gain a foothold and begin to disrupt established ways of doing business. Crowdfunding is arguably the most visible instance at present of such a reshaping being underway. As a phenomenon, it prompts us to revise our understanding of and approaches to small to medium scale fundraising across most economic activity."
The document also acknowledged the regulatory challenges facing the nascent industry as well as investor protection concerns. Yet, it described crowdfunding as one of the "most promising solutions for restoring capital to entrepreneurs." It advocated for EU regulation asking policymakers to "join forces" and craft legislation.
Jump forward ten years later, and EU-wide regulation is at hand. Approved in 2021, European Crowdfunding Service Provider Regulation (ECSPR) has fulfilled a key aspect of the Framework. Today, issuers may raise capital across all EU member states once a platform is approved by a national authority.
CI connected with one of the authors of the Framework, and still a leader in the securities crowdfunding sector, for some thoughts on the ten-year anniversary of the comment. Ronald Kleverlaan is still very active in the Fintech sector and is a European crowdfunding expert who is Chairman of the CrowdfundingHub.
---
It has been ten years since you and others published the document, A Framework for European Crowdfunding. What is your takeaway from your perspective in 2012 to what investment crowdfunding has become in Europe today?
Ronald Kleverlaan: The European Crowdfunding industry developed in the past ten years into a multi-billion euro industry. The growth, especially in the last few years, has been phenomenal, even more than we predicted and expected in 2012.
One of the main reasons was the quicker-than-expected merger between crowdfunding and institutional funding. Currently, European funds (EIF) and smaller institutional funds and family offices are providing capital for co-investment funds, taking over the "crowd" in crowdfunding.
The Framework was predicated on the fact that SMEs/Entrepreneurs drive much economic growth and job creation, yet access to capital is difficult. Where are we today in contrast to 2012?
Ronald Kleverlaan: Access to capital is still difficult in Europe, especially for smaller companies. After the Covid-crisis, the banks in Europe are reducing their risk appetite and increasing costs for SMEs. As a response, more specialized alternative finance platforms are starting, focusing on a specific market or offering a specific financial instrument. The biggest challenge currently for smaller companies is finding the right platform.
What about Europe and fostering a risk-taking society? Where is Europe today?
Ronald Kleverlaan: Unfortunately, the risk appetite for investments is still very low. Equity crowdfunding is only successful in the UK. In the rest of Europe, there is a huge potential, but not that many platforms offering these services.
Models have changed since 2012. Should we be looking at securities crowdfunding from a more holistic perspective? Should online capital formation include debt, equity, and other securities as well as crypto assets (digital assets)?
Ronald Kleverlaan: Digital assets will definitely be the future of fundraising in Europe, but not in the coming five years.
The industry is not developed enough for smaller companies to start using this model. We will see a lot of experimentation and pilots in the coming five years.  Especially the equity platforms will be investing a lot in using crypto assets.
In 2021, ECSPR was approved to create a pan-European capital-raising ecosystem. Why did this take so long?
Ronald Kleverlaan: Between 2010-2018, the industry was not developed enough to regulate. Over-regulation would have killed growth and innovation in the industry. A lot of innovation was still going on, and a lot of innovative models were tested in the market.
Around 2018 the national governments started to launch crowdfunding regulations on a national level. Around this time, we actively pushed the European Commission to take action and push for a pan-Europa and harmonized regime. The process of adapting a new European-wide law takes normally ten years, so in fact, the European Commission was rather fast on this topic.
One of the main reasons is that the European Commission expects crowdfunding to have a major role in access to finance for European companies in the future.
The EU is still in the very early stages of ECSPR adoption. What are your expectations for 2023?
Ronald Kleverlaan: 2023 will still be a transition year. The deadline for platforms to comply with the new regulation has been moved to November 10, 2023.
I expect most platforms in Europe to receive their ECSPR license in the first half of 2023 (or even in the final months of 2022) and start announcing some international partnerships and mergers to expand to other European countries.
2024 will be more interesting because, at that moment, we will know which (combination of) platforms will have some traction and have the opportunity to become a major pan-European platform.
Another major breakthrough in 2023 and 2024 will be that investment platforms will start operating in Eastern Europe and other countries where investment crowdfunding was not allowed until now. This opens up new opportunities for entrepreneurs in these countries.
What needs to be adjusted or improved under ECSPR going forward?
Ronald Kleverlaan: There are a number of technical challenges currently with platforms operating with a Mifid-2 and ECSPR license. This needs to be solved ASAP.
Furthermore, the next version of ECSP should also take into account crypto-assets and crypto investment. Currently, MiCA is being developed to provide regulation for the crypto industry, but a good integration with ECSPR is still far away.
In the end, are digital marketplaces that raise capital for smaller firms the investment bank of the future? What about secondary transactions?
Ronald Kleverlaan: Yes, online platforms will be the future for smaller firms. But these platforms will transition from "crowd" investments to "institutional investor" investments. Crowdlending platforms will become more marketplace lenders. In Europe, over 95% of fundraising by small companies is through loans, so secondary offerings are not that important.
Do you envision a not-so-distant future where issuers (firms) can raise capital online in the EU, UK, USA, and other jurisdictions?
Ronald Kleverlaan: Yes, and this is already possible, but only for platforms acquiring licenses (or partnerships) in all these jurisdictions.
There will not be one regulation. Seedrs already offers the possibility to raise up to €13 million (€8 million in the UK and €5 million in Europe):
Crowdcube Approved by Spanish Regulators as ECSP, Starts Offering Crowdfunded Securities Across the EU