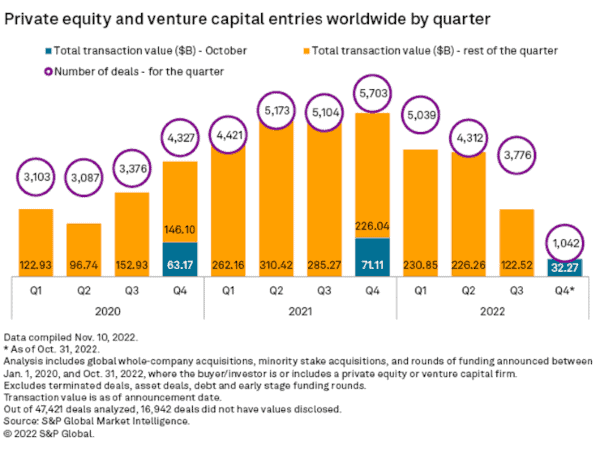 The reports keep rolling in, highlighting a slowing environment for private firms. Venture capital, along with private equity activity, has been in decline for some time now – a fact that should come as no surprise to anyone. Giga high inflation and the inevitable reaction by central banks attempting to crush rising prices means money has become much more expensive. Economies around the world have slowed with geopolitical strife, like the war in Ukraine not helping the situation.
Risk capital backing private firms is vital for a robust economy but VCs and other investors have pumped the brakes – waiting for an all-clear to sound – or at least behind very selective, keeping their powder dry.
Today's report is from S&P Global Market Intelligence. Their numbers indicate that global private equity and VC investments continued to fall in October, delivering the lowest monthly total of the year at $32.27 billion.
S&P shares that total deal value during the month tanked by 54.6% year over year from $71.11 billion.
The number of deals shows another dismal report, with 1,042 booked in October – a 40.1% drop from the same month last year.
Other  data points include:
Year-to-date aggregate value through October 31, 2022, was $612 billion, a 34% decline from last year at $929 billion.
Total deals year to date through October dropped to 14,169 from 16,439
As one would expect, North America leads global dealmaking: The U.S. and Canada were the most active in October, accounting for 346 deals totaling $14.59 billion.
Europe took second place with 334 deals at an aggregate valuation of $9.16 billion, followed by Asia-Pacific, which tallied 315 deals worth a combined $6.17 billion.
Technology, Media, and Telecommunications (TMT) remains the sector of choice attracting capital from private equity firms during the month, pulling in $13.57 billion in total transaction value. However, the number was down more than 50% from the $27.6 billion recorded in October 2021.
So when will things improve? There may be light at the end of the tunnel as interest rate hikes are starting to bite. More firms are announcing staff reductions, inflation has started to head in the right direction, and, at least in the US – a divided government bodes well for the markets as it should stop crazy expenditures that are inflationary (and also makes the Feds job that much harder).