S&P Global Market Intelligence is out with a research note that is predicting a "wave" of mergers and acquisitions in the Fintech sector as the economy slows.
The firm states that an unforgiving stock market and declining cash reserves will compel US Fintechs to consolidate in 2023, adding that some Fintechs will survive, but others will not. Some may take a significant valuation haircut and sell to competitors or investors.
The report includes a list that displays "cash-strapped" Fintechs and neo-banks (Fintechs that provide bank-like services but are not chartered banks).
There is also a list of Fintech valuations that have cratered. Several examples included Upstart Holdings, which has experienced a 91.3% decline in value sinking from $12.4 billion at the end of 2021 to just $1.082 billion at the end of 2022. Another example is Affirm which has lost 90.1% of its prior value, declining from $28.26 billion to $2.8 billion in the past year.
Some companies will survive, but many others will throw in the towel or sell their operations at a significant discount to their peak valuations.
The culprits to the tanking Fintech market are pretty obvious. Rising interest rates, and a slowing economy hammered by high inflation, have flipped the 2021 equation of free money and ballooning deals.
S&P says it is a "buyers market," and they anticipate that private equity is on the prowl as there is a ton of dry powder sitting on the sidelines waiting for the weak to cry for help.
There is also the possibility that traditional financial services will swoop in and Hoover up the wounded Fintechs taking an advantage of the current sale prices.
Or a merger of some startups could take place – like a neobank joining with a Robo-advisor.
Tom Mason, Senior Banking Analyst at S&P, says the most cost-effective approach may be for incumbents to acquire talent.
"In addition to hiring employees that were laid off from startups that needed to cut costs, incumbents might consider 'acqui-hires,' where the startup is technically acquired, but the employees are the primary, if not sole, asset."
---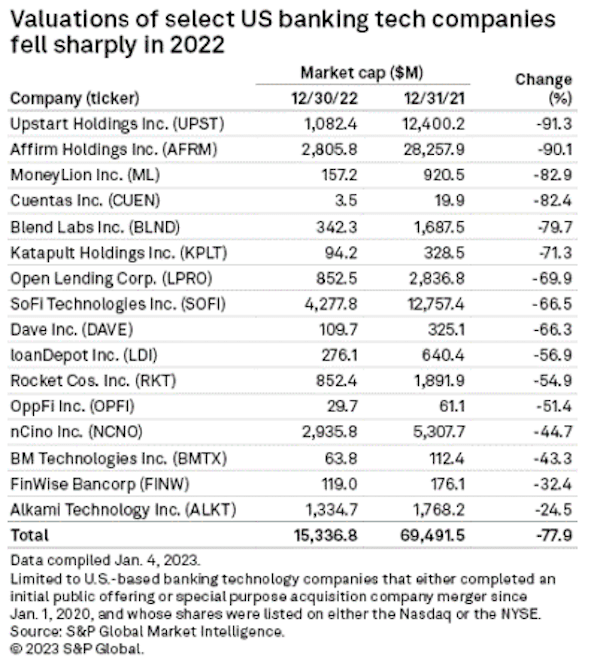 Sponsored