479 backers can and should be proud. They had a major hand in achieving a goal that stood unmet for 30 years.
That goal is called the Sikorsky Prize, and it is centered around a seemingly simply goal: make a human-powered helicopter fly for 60 seconds and reach a height of at least 3 meters. Although simple on paper, it took some serious engineering to meet that goal. The team that found a solution would be awarded $250,000.
The Igor I. Sikorsky Human-Powered Helicopter Competition (AHS Sikorsky Prize) was established by the American Helicopter Society in 1980 in honor of helicopter pioneer Igor Sikorsky. To win the $250,000 prize pledged by Sikorsky Aircraft Corporation, an individual or team must:

Build a helicopter powered only by human means
Lift off and achieve a hover time of 60 seconds
Achieve a height of 3 meters sometime during the 60 second flight
Stay within a 10 square meter area during the 60 second flight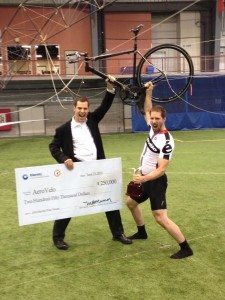 Cameron Robertson and Todd Reichert seemed perfectly poised to meet this challenge. They worked together as members of the Human-Powered Vehicle Design Team at the University of Toronto. They helped develop a human-powered flapping wing machine called the Snowbird, the most successful machine of its kind. They had dedicated much of their lives to sustainable human-powered flight.
The two joined forces to start AeroVelo and launch a crowdfunding campaign seeking $30,000 toward the $170,000 budget for their human-powered helicopter, the Atlas. The project was successful and the team was off to the races.
Popular Mechanics has an excellent article outlining the fateful day the team secured the prize. From the article…
Speaking to PopMech yesterday, Robertson and Reichert were clearly elated, and justifiably so. To take on a challenge that many experts in the field considered impossible, knowing that an experienced team with much greater resources was already closing in on the finish line, took enormous chutzpah. Yet they persevered. Time and again they crashed and rebuilt. Time and again they waited on tenterhooks while Gamera came agonizingly close to winning, or set up the machine, tuned it, and got it running, only to have to break it down again so that amateur soccer teams could use the playing field. They kept adjusting and modifying the airframe for greater stiffness, stability, and performance. Finally, incredibly, it all came together. "They certainly had an amazing flight," Staruk says.
Yet another amazing project to find success with a little help from crowdfunding.

Have a crowdfunding offering you'd like to share? Submit an offering for consideration using our Submit a Tip form and we may share it on our site!

Sponsored Links by DQ Promote