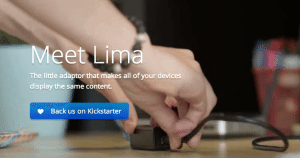 Lima: Brain of your Devices, which ran an incredibly successful crowdfunding campaign Kickstarter that closed September 2013, posted a backer update today which mollified many of their critics.
In September the hot tech device, which effectively allows users to create their own virtual cloud storage with all devices seamlessly synced, raised over $1.2 Million on a goal of just $69,000.  The creators from Paris, France, had discovered their concept had hit a hidden need as the crowdfunding project continued to leap consecutive stretch goals.  Supporters from around the world rushed to participate in this project, purchasing thousands of rewards hoping to be one of the first to use this simple yet elegant device.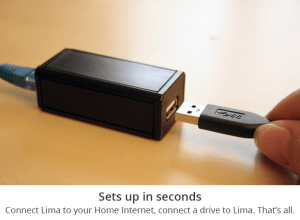 Sufficiently funded, the successful campaign had scheduled a reasonable ship date of December 2013, but in a recent update published on November 27, titled "A Small Cloud and its silver lining", Severin and the Lima team balked and delayed delivery of the product.
The post which was interpreted as thin on details and unsubstantiated by manner supporters, stated the device would now be shipped in the coming Spring.  There was no month or date attached.  The justification originated around the need for additional time on the software – yet the hardware was ready to ship on time.
Many supporters who had previously embraced the product howled in protest.  Some attempted to get refunds and a few complained to Kickstarter.  Severin had stepped on the land mine  of crowd fury.  While not all of the supporters felt slighted enough voiced their anger there was a sense of growing concern .  One of the golden rules of crowdfunding is to always take care of your backers.  They have embraced your dream and will be your project's biggest advocates and the best walking advertisements one could ever desire.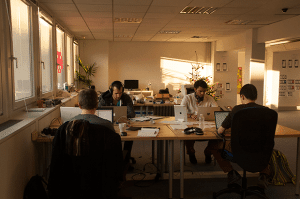 In an over 1500 word update, Severin succinctly and politely put to rest many of his backer critics.  He stated in the update;
Lima will rock storage, but it won't be just working with random files. Lima will be working with your data. And we take this responsibility very seriously. We must make sure the product we ship keeps your data entirely safe and improves your overall computer experience. That's why we preferred anticipating problems and working a few more months to make sure our software fits to our (high-level) quality standards.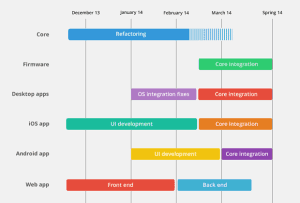 While it is difficult to please everyone, many backers jumped to comment and support the transparency and clearly defined goals shared in the update for the much anticipated product.

Many crowdfunding campaigns ship late.  A delay in receipt of rewards has come to be expected.  What is always inexcusable is a break in communication or a vague response. There is nothing worse than a project creator going dark for an extended period of time (or permanently) to kill the enthusiasm of those who embraced a vision of a product yet to be.  With almost 13,000 backers of the Lima, the detailed response was much needed – and greatly appreciated.  The many supporters now will look to the Spring of 2014.

Have a crowdfunding offering you'd like to share? Submit an offering for consideration using our Submit a Tip form and we may share it on our site!

Sponsored Links by DQ Promote