UK Equity Crowdfunding platform Crowdcube recently updated their info graphic sharing their statistics on their business. Investment crowdfunding is growing at a phenomenal pace in the UK and Crowdcube is in the lead for greatest amount raised in equity.
Everyone realizes we are in the early years of crowdfunding. As the technology evolves, consumer awareness and acceptance grows, investment crowdfunding will become the rule and not the exception.  Crowdfunding at its core is simply applying technology to create efficiencies in the allocation of resources.  In the United Kingdom today just about anyone has the option to invest in early stage companies – an opportunity which was previously the realm of only a select few.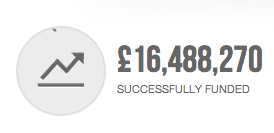 Crowdcube was launched in February 2011.  In November 2011 they raised £1 Million for the Rushmore Group which was the largest amount ever raised in a retail equity crowdfunding campaign at that time.  In September of 2013 Hab Housing raised £1.9 Million on Crowdcube. We expect very exciting things for 2014.
A few of the numbers from Crowdcube:
£16,488,270  Successfully funded
53,285 Registered members on the site (members does not equal investors)
85 Businesses successfully funded
£2,500 is the average amount invested
£26,187,593 total amount invested (successful and not successful listings)
Top Categories:  Retail, Food & Drink, Internet
Pitch success rate of 24%
Largest Single Investment £250,000
Youngest Entrepreneur: 20 Years Old
Oldest Entrepreneurs:  76 Years Old
Related articles across the web