When launching a campaign, crowdfunders are charged with the task of convincing people – often total strangers – to give money to their project. It can be a tall order, and how project creators craft their messaging can be hugely important to the outcome of any campaign.
So, what can crowdfunders say to make it more likely that they will find success? What should crowdfunders avoid saying to lose the crowd's confidence? These questions are at the core of a research effort led by Assistant Professor Eric Gilbert and doctoral candidate Tanushree Mitra from Georgia Tech. The duo focused on Kickstarter in an effort to find the words and phrases that led to more pledges and/or a higher bounce rate.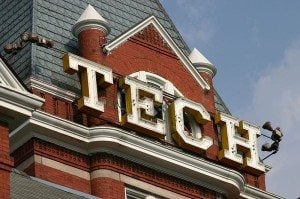 "Our research revealed that the phrases used in successful Kickstarter campaigns exhibited general persuasion principles," said Gilbert, who runs the Comp. Social Lab at Georgia Tech. "For example, those campaigns that follow the concept of reciprocity – that is, offer a gift in return for a pledge – and the perceptions of social participation and authority, generated the greatest amount of funding."
While offering donors a gift may improve a campaign's success, the study found the language project creators used to express the reward made the difference. For example, the phrases "also receive two," "has pledged" and "project will be" strongly foretell that a project will reach funding status, while phrases such as "dressed up," "not been able" and "trusting" are attached to unfunded projects.
"The discrepancy in funding success between projects like Pebble and Ninja Baseball prompted us to consider why some projects meet funding goals and others do not," Mitra said. "We found that the driving factors in crowdfunding ranged from social participation to encouragement to gifts – all of which are distinguished by the language used in the project description."
The research suggested that the language used by creators to pitch their project plays a major role in driving the project's success, accounting for 58.56 percent of the variance around success. The language generally fit into the following categories:
Reciprocity or the tendency to return a favor after receiving one as evidenced by phrases such as "also receive two," "pledged will" and "good karma and."
Scarcity or attachment to something rare as shown with "option is" and "given the chance."
Social Proof, which suggests that people depend on others for social cues on how to act as shown by the phrase "has pledged."
Social Identity or the feeling of belonging to a specific social group. Phrases such as "to build this" and "accessible to the" fit this category.
Liking, which reflects the fact that people comply with people or products that appeal to them.
Authority, where people resort to expert opinions for making efficient and quick decisions as shown by phrases such as "we can afford" and "project will be."
The team's findings are summarized in the paper "The Language that Gets People to Give: Phrases that Predict Success on Kickstarter." The paper will be formally presented at the 17th ACM Conference on Computer Supported Cooperative Work and Social Computing (CSCW 2014) to be held in Baltimore, Md., from Feb. 15 to 19.

Sponsored Links by DQ Promote