Zuvo Truth Site Launched Seeking Answers and Accountability on Failure to Deliver Promised Crowdfunding Rewards.
Stratus by Zuvo Water ran a successful crowdfunding campaign on Indiegogo that closed in March of 2013.  The goal of raising $50,000 was achieved, financed by 267 backers.  Zuvo – was described as "The World's First Intelligent Faucet & Cloud-Connected Water Filtration System".  Approximately 3 months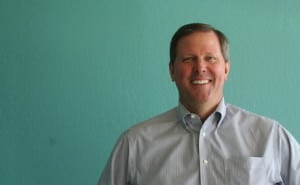 ago a post by Ray Brown, Campaign Leader and COO, stated;
Dear Stratus backers,

As we reported in January, Zuvo Water was acquired. We are in contact with the acquirer regarding the Stratus project and will send out an update to our contributors next week. Sorry for the confusion and delay.

Regards,

Stratus Team
None of the rewards have ever been delivered to backers on a project that promised delivery by June of 2013.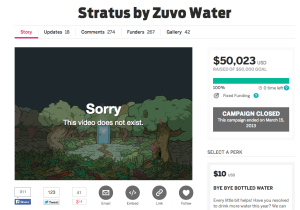 Today the campaign page is a dormant carcass of a successful project with jilted backers seeking assistance in recouping their funds.  In rewards based crowdfunding few have the resources to launch a full scale legal battle when a campaign breaks badly.  To add another twist to the story, the campaign further raised eyebrows due to the cloudy association with Design 2 Matter (D2M) – a company that, at one time, listed the Zuvo project on their company's site. D2M was involved in the Instacube campaign on Kickstarter that raised over $600,000 back in 2012.  Backers are slowly receiving their rewards just now.
In an effort to raise awareness to their plight and hopefully find some closure and accountability someone has created ZuvoTruth, a domain registered just this past June.  The posting on the home page declares:
We Demand Answers!
As investors in this project we feel we are entitled to some truth regarding Zuvo Water LLC. Zuvo has taken ~$50k of investor cash and has not delivered on their promises. Not even a test kit or water bottle has been delivered. Status updates are ignored and revealing posts by backers are deleted, At this point we feel this project has FAILED, and as such Zuvo should come clean, do the right thing and refund everyone's investments.
We are also disappointed with indiegogo.com for its lack of support and protection for fraudulent projects such as this one. We feel indiegogo.com should provide more protection to investors and better vetting of projects before they are allowed to receive funds. Numerous investors have tried to work with indiegogo.com to resolve this, however we all found they were insensitive to the issues.
We demand answers to the following:
Did Zuvo declare bankruptcy? If so, when ? If not, show proof of continued trading.
Why is it seemingly impossible to order any existing Zuvo products online, through Amazon, Costco etc. All state "out of stock"? Frustrated customers are venting on the Zuvo Facebook page!
If Zuvo was acquired, who bought Zuvo? Why is this information not being disclosed? Why the need or secrecy? Unless of course it never happened! Does the purported new owner intend to continue the project or ignore it?
What happened to the ~$50k of funds that were raised for this project? Account for it!
Did Zuvo corporate actually know about this project on indiegogo.com, or was this a scam run on behalf of some of Zuvo's employees?
Why does Ray Brown continue to represent the project after he has left the company?

The frustration is quite understandable.  The organizers took the money and left backers empty handed.  Not only is this a black eye on Zuvo creators but it highlights a weakness in rewards based crowdfunding.  Campaigns that fail to deliver often may do so with impunity.  This publication is aware of at least one confirmed case where a state's Attorney General filed a suit against a project that failed to deliver.  

Hopefully the publicity will shame the organizers to right the wrong.  If we hear more – we will let you know.

Have a crowdfunding offering you'd like to share? Submit an offering for consideration using our Submit a Tip form and we may share it on our site!

Sponsored Links by DQ Promote