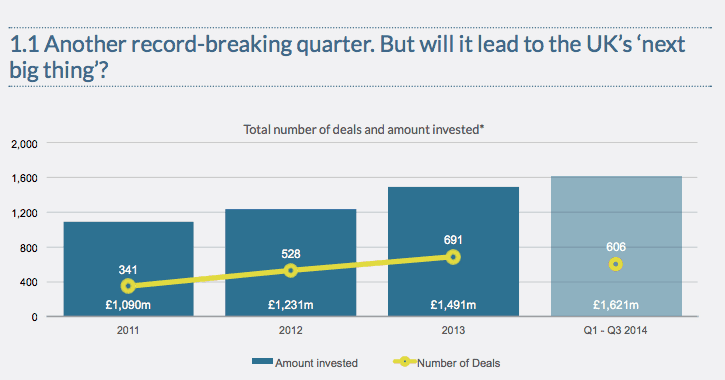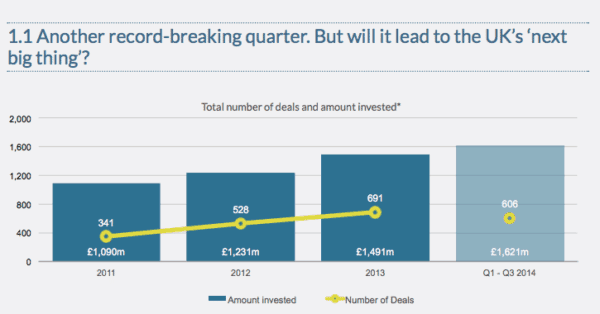 UK Research firm Beauhurst has tallied up another record breaking quarter for equity investments in companies.  Beauhurst has been compiling data on non publicly traded investments – thus largely early stage investments from PE, VCs, angels and investment crowdfunding platforms.  According to their data, 2014 is a record breaking year – even before Q4 is factored in.
To date "growing companies" have generated £1.621 billion with 606 deals topping the 2013 total of £1.491 billion with 691 deals.  The caveat to this superlatively good news is that according to Beauhurst;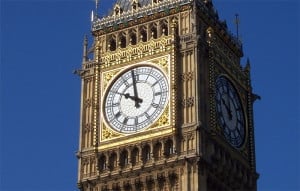 "the UK market just isn't geared to scaling companies in the way the US market is.  Investors on the other side of the pond are willing to take on more risk and part with more cash in order to grow portfolio companies larger much faster. And the American market is focused differently – far more on Technology firms that are more able to scale fast. We don't believe it's realistic to expect the UK to produce firms that look like the US's biggest successes".
The author continues by surmising this is no big deal because the US should not be taken as a "litmus test" for UK innovation.
The good thing is that young companies that capture the capital they need grow the economy and create jobs.  Investors who are willing to shoulder the risk have the chance of generating some decent returns too.  This is all good.
While the US is big into Tech, Beauhurst believes the Professional Service Sector may be the nexus for the UK's "next big thing" as this category is number one in terms of deal numbers and investment amounts.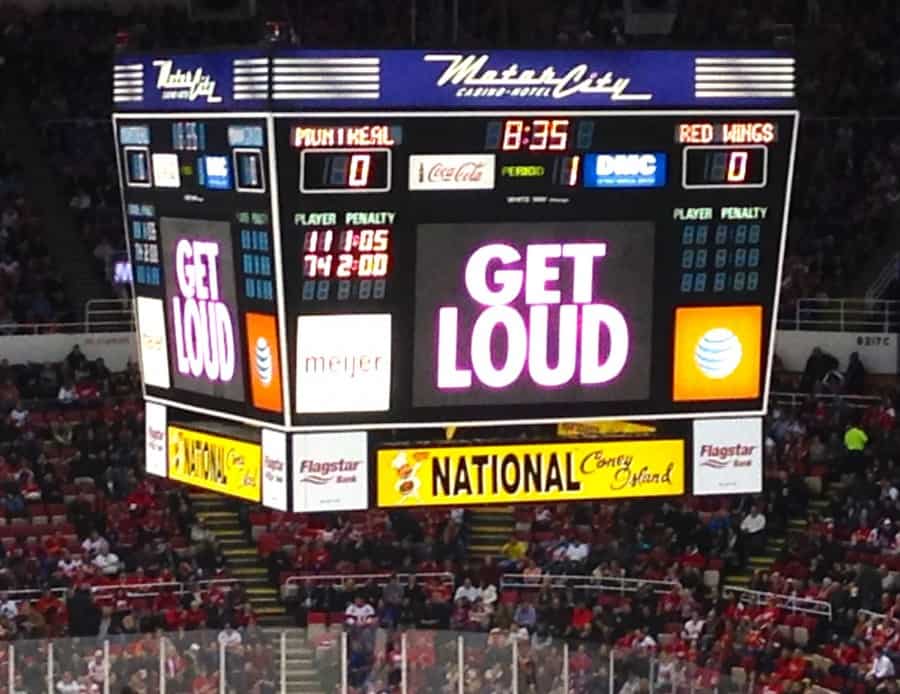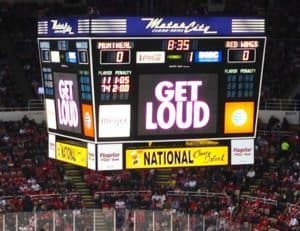 It was interesting to note that Scotland experienced a significant decline in number of deals and amount invested for all of 2014 (to date) – and is expected to fall short of the scoreboard from 2013.  The report chalks this one up to fears of Scottish independence pushing investors to look elsewhere for growth.

The document closes out with their top 5 from Q3 – two of which raised capital on investment crowdfunding platforms.  easyProperty hit the screens of Crowdcube and raised £1.42 million giving it a sizable "seed stage valuation of almost £70 million".  On InvestingZone, BlueBella registered £700,000 in equity crowdfunding.  Bluebella is a lingerie and intimate toy firm. They also hold the license to Fifty Shades of Grey lingerie and sleep collection for the UK and Ireland.  Not exactly tech or professional services but certainly a crowdfunding success.  The summary report is available for viewing here.

Sponsored Links by DQ Promote