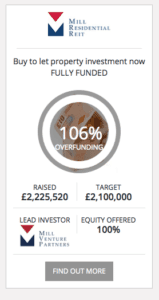 Mill Residential REIT, the very first Real Estate Investment Trust to publicly crowdfund, has fully funded on Syndicate Room.  The offer sought to raise £2.1 million for the funding round. The offer has now closed having raised £2,225,520 from 72 investors.  Investors using the Syndicate Room platform could participate at a minimum level of £1000.  Expectations are for the REIT to trade on a public exchange before the end of the year thus facilitating liquidity quite rapidly.  Mill Residential REIT may be able to claim one of the first equity crowdfunding projects that lists on a public exchange.  This "first" event is indicative of the ongoing evolution of online funding, a process that may eventually completely alter the way capital is raised for all types of companies.
The investment vehicle is targeting individuals interested in exposure to rental or "buy-to-let" property without shouldering the risks and effort associated with becoming a landlord.  The property market in the UK is experiencing a bit of a boom right now similar to some other global metropolitan areas.  While the initial funding for the REIT is small, the company expects to raise additional funds in 2015 and expand their reach.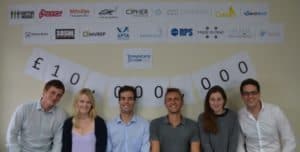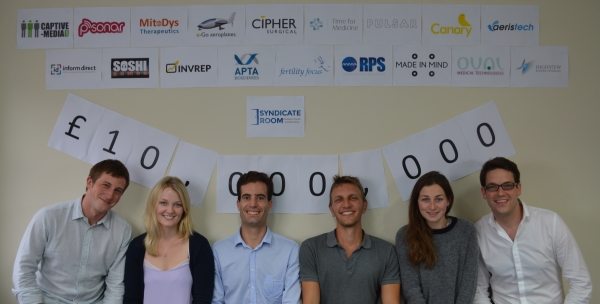 Corresponding to the close of Mill Residential along with the successful funding round of Lightpoint Medical, Syndicate Room has shared their platform has now topped £15 million (USD $ 23.45 million) in funding. This benchmark was an internal target for 2014 and follows the announcement just in September where the platform surpassed £10 million in funding.  The achievement was described as "Exciting times at Syndicate Room" and an accomplishment that will "set us up for a major year in 2015".
Syndicate Room has created a strategy of pairing all listed offers with established investors.  Thus retail investors may participate with a  higher level of confidence the offer has been thoroughly vetted. Syndicate Room, in past information, has claimed a solid success rate for fully funding deals with this approach.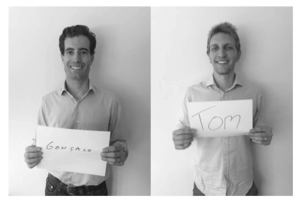 The platform states they are "passionate about investor rights" and want to create a "transparent equity crowdfunding model".  They also are adamant that subscribing members receive the same share class and same share price as the professional investors. 
Syndicate Room was co-founded by CEO Gonçalo de Vasconcelos and  COO Tom Britton.