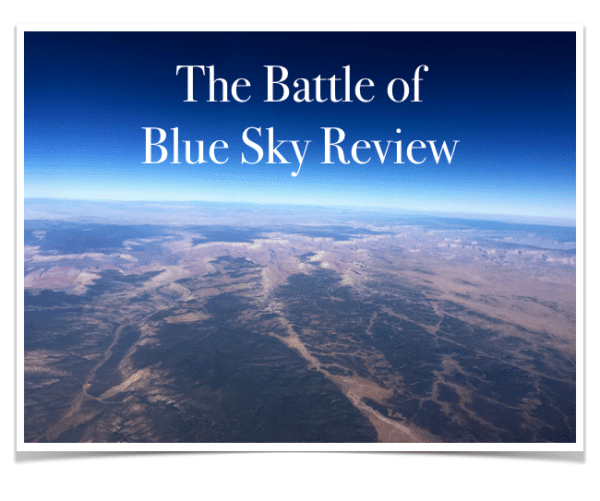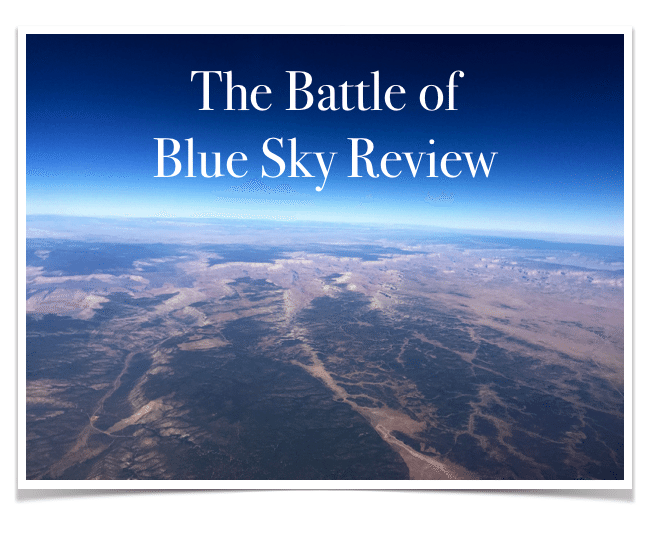 Groundfloor, a real estate investment crowdfunding platform based in Atlanta that offers "micro-loans", posted a comment letter on the SEC site in mid November sharing their opinion on the hot topic of State Blue Sky Pre-emption:  something viewed by many as a compelling aspect of Title IV of the JOBS Act.  The industry has almost unanimously acknowledged that Blue Sky Review effectively killed Regulation A offers. The oft cited example regarding state review is when the State of Massachusetts blocked investors from participating in the IPO of Apple Computer – as regulators deemed it too risky.
Congress set out to rectify this shortcoming in Title IV by removing state review.  The North American Securities Administrators Association (NASAA), the representative group for state regulators, has been lobbying heavily to keep state review in place.  As part of their ptiched battle, NASAA has been developing a service that is claimed to offer one stop state review for filings leveraging Regulation A/A+.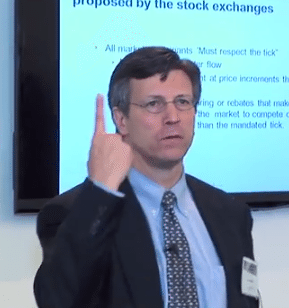 To add some perspective to the debate, none other than David Weild, former Vice Chairman of NASDAQ and current CEO of Issuworks has called out the special interest group;
"NASAA is doing incredible harm to the economy and they need to stand down"

"…not in the best interest of the country for them to assert jurisdiction and get in the SEC's way here.  Just isn't."
A recent  slide during a presentation went so far as to call NASAA's position as "laughable" – noting that state securities regulators already have the full weight of anti-fraud laws to go after malfeasant issuers and that state regulators should let the SEC do their thing.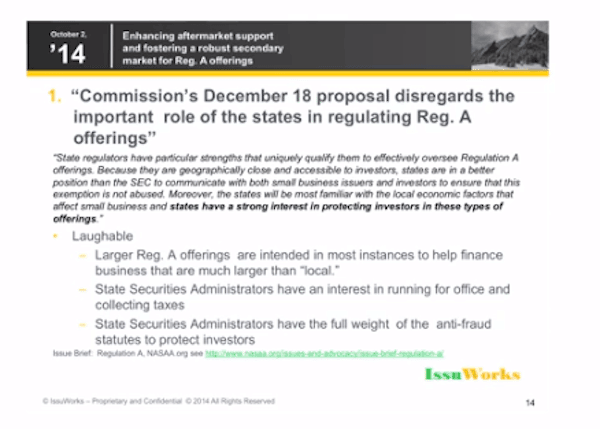 The comment letter signed by Groundfloor Executive Vice-President and co-founder, Nick Bhargava, states;
"We strongly disagree with the proposal to preempt state registration.  In our experience, meeting state Registration by Qualification requirements is concomitant with meeting form 1-A requirements…  The coordinated review program has created value by defining concrete service standards.  For us, the value of receiving comments in a timely fashion outweighs the marginal costs of filing in multiple states".
Bhargava continues by bulleting their review experience stating:
State qualification requirements are substantially similar to form 1-A requirements and do not materially increase cost
The co-ordinated review process is communicative, user friendly, and easily manageable
Defined services standards provide certainty, save time and save money
Coordinated review states are able to provide more direction in addressing comments
NASAA's statement of policy were applied in a uniform manner and were well explained.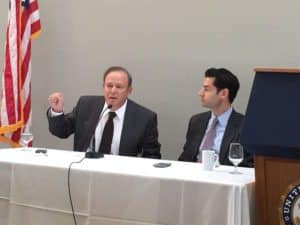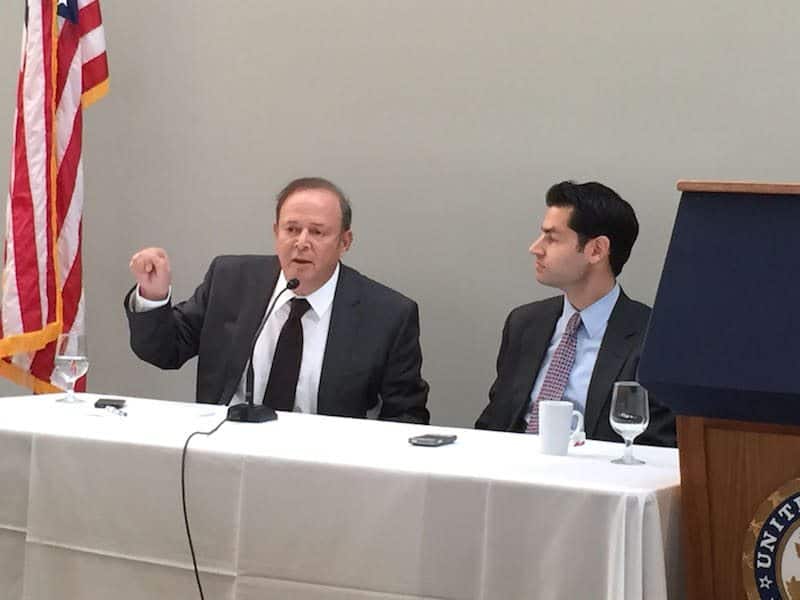 Crowdfund Insider Senior Contributor Sam Guzik commented on the recent revelation stating;
"There is something wrong with the picture painted by Groundfloor in its comment letter to the SEC. I find it curious that a company utilizing the current Regulation A exemption, would applaud the virtues to small businesses of being subjected to both federal and state registration review for this little used exemption. I find it equally curious that Groundfloor would come out in support of concurrent state review of Title IV Regulation A+ offerings of up to $50 million – something which Congress has clearly expressed an intent to exempt from state review."

"My suggestion to the two members of the House Financial Services Committee who wrote in support of Groundfloor's letter, is that they also consider the testimony given before the House Financial Services Committee in May 2014 by Ben Miller, co-founder of real estate developer Fundrise, in support of a bill passed by the HFSC in May 2014 which would pre-empt all Regulation A and A+ offerings from duplicative state registration."
Last week two Congressional leaders, Maxine Waters and Stephen Lynch, submitted a letter to the SEC in what appears to be coordinated support of Groundfloor and NASAA.  With only a few days remaining  in 2014 – and some industry followers expecting final rules on Title IV soon – we may discover soon enough if the SEC is sticking to their guns on Blue Sky Preemption or the pressure simply became too much.

Both the Groundfloor and Waters/Lynch letters are embedded below.

[scribd id=249648412 key=key-5V53q7TjoElsFDZVez2h mode=scroll]

Sponsored Links by DQ Promote