UC Berkeley revealed last year that it intended to launch a campus wide crowdfunding platform and that came to fruition this past Monday. Described as a "beta phase", the site will allow students, faculty and researchers to raise money for projects. The site launched with 5, relatively small, crowdfunding campaigns.
According to a report in The Daily Californian, the crowdfunding platform is a "pilot program" to evaluate how much support projects may generate;
"The main goal of this initiative is to acquire new donors and understand a little bit more about who the donors are that contribute to these types of projects," said Lishelle Blakemore, executive sponsor of the crowdfunding site.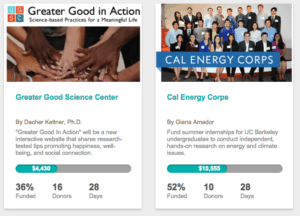 Blakemore said that the vetting process would be "rigorous".  A portion of revenue generated on successful projects will be retained by the platform but at 2.5% it is a smaller percentage than platforms like Kickstarter.  Expectations are for the site to become a permanent, stand-alone platform for the UC Berkeley community.  Crowdfunding campaigns will run for 30 days with all funds being transferred to project creators even if the funding goal is not reached.

The site is being powered via ScaleFunder, a white label crowdfunding service provider that has targeted higher education as potential clients. ScaleFunder powers sites at Pepperdine, U Miss, the University of Maryland and other schools.

Sponsored Links by DQ Promote