Earlier this summer, Patch of Land announced the release of its long-anticipated secured debt investment structure, effective for all its offerings in the past and into the future. Although the new structure took Patch of Land over a year of extensive research and consultation to develop, the executive team at Patch of Land felt that the investment structure advanced the asset-based marketplace lending industry forward so significantly that it published the investment documents openly for competitors and investors to study. Crowdfund Insider Senior Contributor Anthony Zeoli reviewed the new structure earlier this year.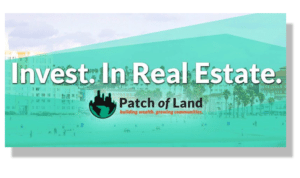 Since then, other industry players have indicated that they intend to follow Patch of Land's lead in offering secured borrower payment dependent notes. For example, recently RealtyShares announced that it had also adopted a similar secured fractionalized debt investment structure, effective for offerings after September 6th, which matches Patch of Land's structure to the tee. 
Jason Fritton, CEO of Patch of Land, stated:
"We are pleased that industry leaders within the real estate crowdfunding space have moved to follow our lead in offering a secured debt structure that better protects investors. It's a considerable step forward for the industry now that top of the top real estate crowdfunding platforms are using Patch of Land's pioneering secured debt investment structure."
Amy Wan, General Counsel at Patch of Land, commented:
"The General Counsels of numerous other platforms have reached out to us to learn how to structure a secured fractionalized debt offering. It's now inevitable that all major RECF platforms will adopt our best-in-class structure, otherwise they may be left in the dust for selling investors an inferior product." 
Innovation and meaningful transparency are part of Patch of Land's DNA as the company continues to establish credibility in crowdfunding and peer lending for real estate. The company was the first to pioneer the concept of pre-funding (now also used at Fundrise and other platforms), the first to identify a niche in SFR and real estate debt (as opposed to other platforms that started off by offering a variety of property and financing types), and now the first to pioneer a secured fractionalized debt investment structure.
Patch of Land is already beginning "Legal 3.0", or Phase 3, of its investor-side legal innovation project, which GC Amy Wan hopes to debut in early 2016.
Wan added:
"Technologists believe in continual reiteration of a product. I've applied that line of thinking to the Legal Department at Patch of Land. Every day, we ask ourselves, 'what can we improve? where can we be better?' All department heads seek to continually iterate to make Patch of Land the industry leader in all fields, including Legal. My department has a heavy emphasis on non-traditional creative lawyering."



Have a crowdfunding offering you'd like to share? Submit an offering for consideration using our Submit a Tip form and we may share it on our site!

Sponsored Links by DQ Promote