The shaving / razor industry is pretty huge in the United States.  The shaving segment, according to Statista,  tops $3.6 billion annually including razors, cream etc.  Companies such as Bic, Schick and Gillette, have based a business off the demand for a product that is used daily – so it scales rapidly. In 2014, it was estimated the industry generated $18.69 per consumer in the States.
---
So how much has the industry changed over the years? Not so much.  From straight razor to disposable razor it pretty much means blade to skin.  Probably the biggest innovation in years has been the advent of shaving clubs – like Harry's Club (founded by a Warby Parker veteran).  Higher quality at a lower price – but you have to commit and sign up for a subscription. So once again you are locked in to paying an annual or monthly fee.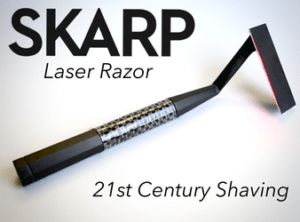 Now a Kickstarter campaign wants to challenge the entire shaving industry with a razor that uses a laser to cut hair.  Kind of star wars meets daily grooming.
The concept of the Skarp Laser Razor is novel enough to have captured the backing of over 19,000 supporters, raising more than $3.7 million in the process. Skarp now stands at the 17th most funded Kickstarter of all time.  There remains over a week in this campaign so it has the potential to go much higher. For $189 bucks (early birds were much lower) the project creators claim you can say goodbye to disposable razors and play a role in eliminating the over 2 billion razors that are pitched each year. Men and women have been using about the same technology for 5000 years.  Isn't it about time shaving gets a technological refresh?
Skarp Laser Razor is a crowdfunding project without a working prototype. The money is needed to minituarize and fine tune the concept. Many questions have been directed towards the project creators inquiring about the actual viability to deliver a final product (scheduled for March of 2016). How safe is the laser for your skin? What about your eyes? Can the described laser actually cut all types of hair? Is it carcinogenic? The lists continues – but then crowd scrutiny is part of the process.
Skarp team members published a video addressing many of the questions earlier today (embedded below).
https://d2pq0u4uni88oo.cloudfront.net/assets/004/651/986/9fb532290d7db7537d4d35c9a9591f91_h264_high.mp4
So will Skarp be able to accomplish its stated goals and aggressive delivery schedule? Will the Laser Razor be the device to disrupt an entire industry that has been cruising onward for hundreds of years?  Only time will tell. But that is part of the fun (and risk) of supporting a rewards based crowdfunding campaign.
Have a crowdfunding offering you'd like to share? Submit an offering for consideration using our Submit a Tip form and we may share it on our site!