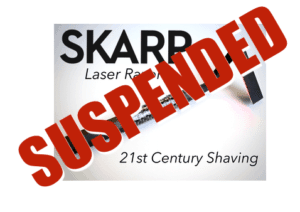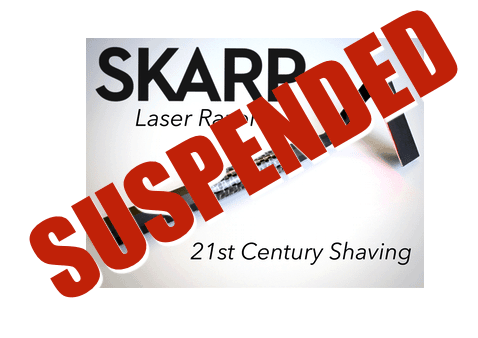 The Skarp Laser Razor received the ban hammer from Kickstarter earlier today.  As shared in the comments from an earlier article, apparently the Skarp campaign was banned as Kickstarter deemed the project as in violation of its terms of operation.  As covered previously, Skarp did not have a working prototype – something Kickstarter does not like:
Hello,
This is a message from Kickstarter's Integrity team. We're writing to notify you that the Skarp Laser Razor project has been suspended, and your pledge has been canceled.
After requesting and reviewing additional material from the creator of the project, we've concluded that it is in violation of our rule requiring working prototypes of physical products that are offered as rewards. Accordingly, all funding has been stopped and backers will not be charged for their pledges. No further action is required on your part. Suspensions cannot be undone.
We take the integrity of the Kickstarter system very seriously. We only suspend projects when we find evidence that our rules are being violated.
Regards,
Kickstarter Integrity Team
No comment yet from the project creators.
Skarp was shut down at just over $4 million making it one the top twenty Kickstarter campaigns of all time. The crowdfunding campaign was scheduled to close on October 19th so it had the potential to go much higher.
Skarp had endured plenty of questioning as to the viability of their project.  Recently they created a video in an attempt to convince backers their technology was sound but questions lingered as the demonstration received a highly critical review.  There is an active thread on Reddit dedicated to the campaign that labeled it a "scam" pretty early on. The technology was called "farfetched", but some commenters have called other items about the campaign into question, including the creators backgrounds. A user called SkarpRazor has been defending the campaign.
Will Skarp try and make a comeback? Let's see how the creators respond.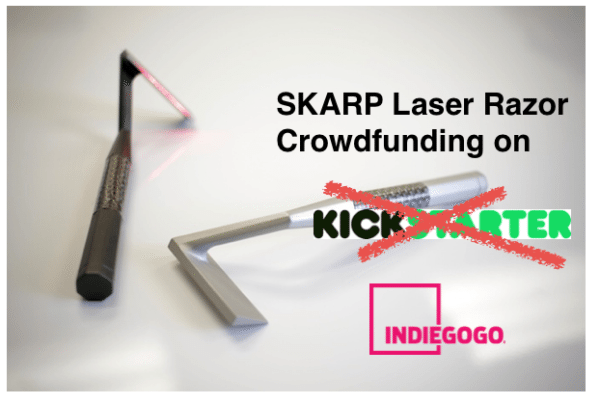 UPDATE
So the creators of Skarp have decided to skip the battle with Kickstarter and have migrated their project over to Indiegogo.  This is not the first time this has happened to a campaign shunned by Kickstarter, as Indiegogo does not require a working prototype for crowdfunding campaigns listed on their platform.

Still no explanation posted from either Morgan Gustavsson or Paul Binun. I would think the duo would want to share some insight into their discussions with Kickstarter and their shift to Indiegogo.

Now Indiegogo really counts on the crowd to vet campaigns like this. So far team Reddit is doing a pretty good job.  It remains to be seen if all the scrutiny will cause the Skarp Laser Razor to stumble on Indiegogo – but so far the project has quicly raised over $50,000 on a flexible funding campaign of $160,000.  Note: Not too long ago Indiegogo changed its policy on Flexible Funding campaigns so now, if you have backers remorse, you may cancel your contribution.  You just have to do it prior to the stated close date of the campaign.

Have a crowdfunding offering you'd like to share? Submit an offering for consideration using our Submit a Tip form and we may share it on our site!

Sponsored Links by DQ Promote