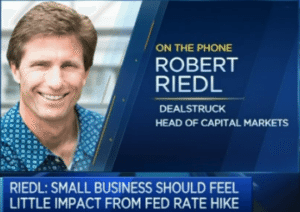 How will the Federal Reserve's decision to raise interest rates impact small business? According to Robert Riedl of Dealstruck – it is all good. DealStruck is a marketplace lending platform that focuses on providing access to capital for SMEs. Dealstruck provides loans of up to $250,000 – a sector of finance largely abandoned by banks.
Speaking with CNBC, Riedl views the 25 basis point uptick as a positive sign the economy is on the right track.
"For us [at Dealstruck], our average loan size is $100,000. A 25 basis point increase translates into $250 a year so that is about $20 a month," stated Riedl. "From our perspective this should have very little impact on our borrowers."
Riedl believes the increase is driven by the confidence Yellen has in the domestic economy. "The strength of the economy is going to far outweigh this. Even if we see another 100 basis points over the course of next year".
The CNBC presenters asked DealStruck to expand into Asia.  Perhaps next year?
Watch the video below.