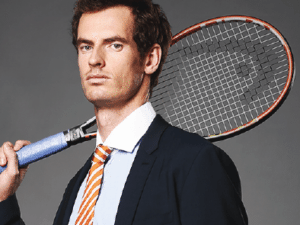 Andy Murray, a top ranked professional tennis player and advisor to Seedrs, has released his first investments for 2106 via the equity crowdfunding platform.  Murray has reportedly invested in five different early stage companies for undisclosed amounts.
Jeff Lynn, CEO and co-founder of Seedrs, said it was great to see Murray invest in UK entrepreneurs;
"Seedrs is now the most active seed-stage equity investor in the UK, and our continued growth and leading position in the market are testament to our reputation and the support from people like Andy."
His investments include:
2015's Start-up of the Year Oppo Ice Cream;
FinTech50 2015, annual travel ticket subscription service CommuterClub;
the UK's fastest growing P2P lender Landbay, which recently announced a partnership with Zoopla;
We Are Colony, a global film streaming platform founded by BAFTA-winning filmmaker Sarah Tierney;
Readbug, the 'Netflix for Magazines'.
Murray commented on the investments;
"Giving recognition and support to British entrepreneurs is important to me, especially those who are the driving force behind growth-focused businesses. Every one of these entrepreneurs is inspirational and dedicated to their business and I'm excited to have invested in their team's vision and work ethic. It's been an exciting start to 2016 for me, for many reasons. To see Seedrs reach £100 million on the platform and so many ambitious and dynamic businesses currently fundraising, means it's a great start to 2016 for them as well."
Oppo Ice Cream recently returned to Seedrs and quickly vaulted its £150,000 funding target as it continued its mission to sell healthy ice cream.
CommuterClub is currently fundraising on Seedrs, having raised over £350,000 to date of its £650,000 target.  CommuterClub helps commuters save time and money by offering season tickets as a subscription service.
Landbay, is a peer to peer lender targeting the mortgage market. Landbay, who recently partnered with Zoopla, is back on Seedrs for its 5th funding round.
We Are Colony, a global film-streaming platform, is currently raising £500,000 and has surpassed 70% of its target in just a fortnight.
Read bug, another company returning to Seedrs for more capital, is looking to raise £50,000 this round with the campaign already hitting its target and overfunding on Seedrs just a week after going live. Readbug offers a curated selection of independent magazines all in one app, and is on a mission to change the way digital magazines are consumed.
Seedrs has raised over £100 million on its platform. In 2015 it saw over 38,000 individual investments into listed companies.