This evening, actor Don Cheadle will be heading to Cincinnati, Ohio premiere of his Indiegogo project, Miles Ahead. The film was reportedly filmed in the city in 2014 and tonight's even will be taking place at Esquire Theatre in Clifton.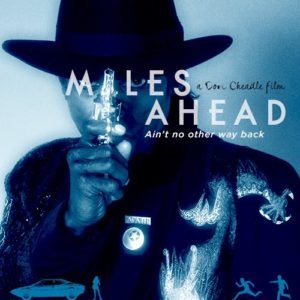 Academy-Award nominated actor launched a campaign on the global crowdfunding platform for the featured film just two years ago, which focus on a few day days and events in the life of Miles Davis, American jazz musician, trumpeter, bandleader and composer.
Miles Ahead captured a grand total of $344,582, which went towards the production and creation of the film. Those who backed the campaign received various rewards, including t-shirts, posters, DVDs and art books, advance screening with a red carpet and Q&A session, Associate Producer credits, set visits and lunch or a round of golf with Don Cheadle himself.
Miles Ahead will be hitting theaters in New York and Los Angeles on April 1st (next Friday). It screened at this year's Sundance Film Festival back in January and held its world premiere at the New York Film Festival last fall.
While discussing his history with Miles Davis' music, Cheadle previously stated:
"He was someone that my parents listened to. The music was in the house since I can remember, but I think at 10, when I started actually playing music, playing sax, is probably when I started paying more close attention to the kind of music and the construction of the music and the composition and all of those aspects of it."
Cheadle went on to note some challenges he faced while taking on the role as the music icon:
"Well, I don't know about fear. You're out there in front of everybody while you're trying to figure it out. You're not doing it in your garage. You're doing it in front of people, so I guess there's a vulnerability, definitely. But I think that's when you're supposed to know, or recognize, 'Oh,that's what I'm supposed to be' Because I'm not in my comfort zone. I'm reaching for something, and when you reach for something, you stumble. You don't actually get to get there cleanly, which is another thing I loved about Miles. The story goes that if he heard you rehearsing something, if you were guys doing a date and you were in your hotel, and he heard you rehearsing your solo or whatever, and you came down on stage and performed that same solo, you were out, you were done with the band. Because, as Herbie [Hancock] said, 'Miles paid us to rehearse in front of people.'

"That, to me, is like the most respectful thing you can do. It's like, I'm going to show you all of the bumps and bruises along the way, and how we get to something. I'm not going to come out here and make sure that we're totally polished and everything's slick and perfect. That's not what he wanted to do. I feel like, when it's the best, that's how you're supposed to feel. Like, you're reaching, that you're always trying to figure it out. And if you're always reaching, then yeah, you're always going to feel vulnerable. I don't know, fear may be another way to say it, but you're always going to feel you're exposed."
See the film's trailer below.
Have a crowdfunding offering you'd like to share? Submit an offering for consideration using our Submit a Tip form and we may share it on our site!