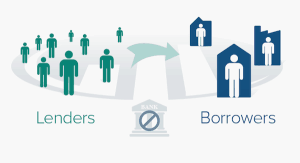 Commercial property lender Proplend has reduced their required minimum investment from £5000 to £1000.  The move is expected to broaden their investor base while making it easier for existing investors to create a more diversified portfolio of loans.  Going forward, all new loans will be divided into £1000 loan parts.  The maximum investment is only limited to the outstanding amount on any loan.

According to Proplend founder and CEO, Brian Bartaby, the mote was driven by investor demand;
"We were being approached by lenders who were very attracted to the stable returns offered from investing in commercial property backed P2P loans through the Proplend platform, but who found the initial investment level of £5,000 too high," said Bartaby. "Separately, we were also conscious that looking forward to investing within an ISA wrapper, the £5,000 minimum investment level would not offer investors an acceptable level of portfolio diversification. We look forward to welcoming a broader base of investors to Proplend and will continue to offer them attractive rates of asset-backed, risk-adjusted returns."
Proplend has made a limited number of £1000 loan parts available immediately on their Proplend Loan Exchange (PLE).  Proplend pointed to two of their previous loans, Croydon Office Block and Newcastle Business Park as offering gross returns from 5.93% to 9.75%. New loans were said to be forthcoming over the next several weeks.
Proplend is a peer to peer lending platform that focuses on income producing  commercial property. All loans are said to be secured by the underlying property.