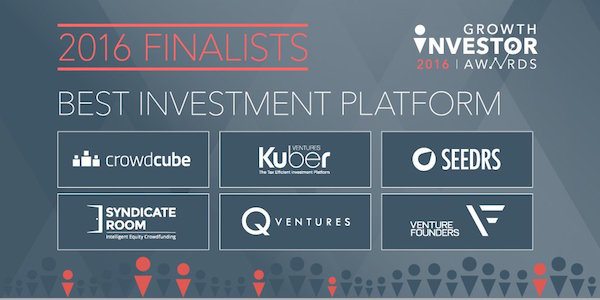 On Thursday, organizers of the Growth Investor Awards announced UK-based crowdfunding platforms, Seedrs, Crowdcube, and SyndicateRoom have been named finalists of the 2016 Best Investment Platform.
The Growth Investor Awards notably celebrates the role of the UK SME fund management community in both job and wealth creation. It also recognizes those who enable startup and scale up businesses to realize their full potential and drive the UK's economy. 
Congrats @Crowdcube @kuberventures @QVenturesCo @Seedrs @SyndicateRoom & @VFounders | @BWBcompliance #growthcapital pic.twitter.com/YmixqUv4AY

— GrowthInvestorAwards (@GIAwards) August 11, 2016
Last year, SyndicateRoom was dubbed the Best Investment Platform. At the time, co-founder and CEO, Gonçalo de Vasconcelos, stated:
"It's a proud moment for the team, and one that is causing me to reflect. In praising SyndicateRoom's 'innovative structure, based on having a lead angel', the judging panel touched on the simple but profound difference that means we're challenging the status quo in equity crowdfunding. You know that we're the UK's investor-led platform. On a practical level this means that we only list investment opportunities that are backed by professional business angels, but it's much more than that. Investor-led is the philosophy that informs how we conduct our business. We lead with the investor's interest first and foremost. We value openness and transparency, and believe that the investment community deserves nothing less."
Daniel Kiernan, one of the evaluators who helped to create last year's shortlist of competitors, revealed:
"A strong entry in terms of volume growth and providing a wide range of investment opportunities, SyndicateRoom impressed judges with an innovative structure based on having a lead angel."
Others who were nominated for the 2016 Best Investment Platform award include Kuber Ventures, QVentures, and Venture Founders.