As part of the SEC Advisory Committee on Small and Emerging Companies meeting last week, there were two presentations on the decline of IPOs in the US.
The first was provided by the law firm Goodwin was shared earlier on Crowdfund Insider. Also in attendance was Glen Giovannetti from EY who delivered a similar presentation entitled "Why are more companies staying private."
The presentation is embedded below, but Giovannetti echoed James Hutchinson of Goodwin in saying companies are staying private longer because they can.
Here are some of Giovannetti's data points explaining while initial public offerings are in decline:
The number of public companies has decreased by more than 50% since the 1996 peak.
This decline is mainly due to M&A activity among public companies and delistings for cause (noncompliance) offset by IPO activity.
Over this period, very few companies voluntarily went private.
Delistings for cause have decreased since 2005 which suggests that higher listing requirements and SOX [Sarbanes Oxley] reforms have had an effect on the quality and sustainability of listed companies.
There has been an upward trend in VC-backed company formations … however, IPOs have not kept pace
Companies that seek to publicly trade shares have historically completed a public offer because it was a lower cost of capital, it provided liquidity for early investors (founders, employees etc.) and brand identity.
Remaining private longer has become the preferred option because there is so much money hunting for higher returns. Meanwhile, the regulatory burden has increased both cost and risk to companies interested in a public listing.  Using a couple high-profile examples of the phenomena of IPO dodging, Giovanetti explains;
"Uber was able to raise more than US$8b from PE firms and sovereign funds and US$3b of private debt over 7 years whereas Facebook "only" raised US$2.4b of private equity over the same period of time a few years before."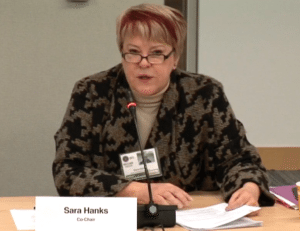 Promising companies look to initiate an IPO only when they must. Google and Facebook listed shares when they hit the 500 investor limit – a hurdle that has since been increased to 2000 investors under the JOBS Act of 2012.
So who loses out in all of this? Companies that need access to capital that may not be sexy enough for a VC and smaller investors who have been barred from enjoying significant gains due to antiquated securities rules.
Clearly, there is an opportunity for policymakers to address this issue. The first step in resolution is acknowledging that the current regulatory environment is falling short of the goal. This is why the ACSEC committee is so important.
See the EY presentation below.
---
[scribd id=339422822 key=key-EgrbnM2jOFbHtu5GhVXK mode=scroll]

Sponsored Links by DQ Promote