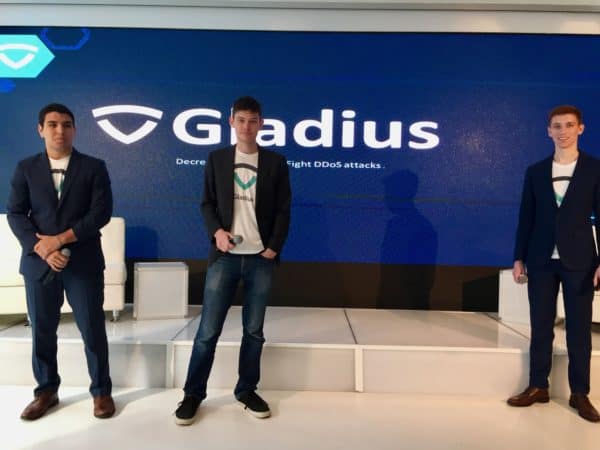 Gladius Network, LLC, a company that raised $12.7 million dollars via ICO (initial coin offering) in late 2017 to, "develop a network for renting spare computer bandwidth to defend against cyber attacks and enhance delivery speed," has settled with the SEC after self-reporting its unregistered ICO venture to SEC Enforcement staff in the summer of 2018. The Gladius ICO occurred post-DAO report, a line in the sand when the SEC warned ICO issuers about raising money via unregistered securities pitched as utility tokens.
The SEC states in a release that because the Washington DC-based company self-reported, "expressed an interest in taking prompt remedial steps, and cooperated with the investigation," the regulator did not impose a penalty on the company.
According to the SEC, Gladius crossed the line promoting to purchasers of the GLA Token they could expect "that they could obtain a future profit from GLA Tokens if the entrepreneurial and managerial efforts of Gladius's founders, employees, and agents succeeded."
Gladius also indicated the crypto would be made available for trading on major digital asset trading platforms:
"… exchanges are an integral part of our technology and customers will . . . be able to use exchanges to purchase GLA for protection when the platform launches." After the offering concluded, Gladius posted on its Web Pages that it had entered a "partnership" to make the GLA Token available to trade on "one of the top cryptocurrency exchanges in the world!"
As part of the settlement, Gladius has agreed to register their digital tokens as securities and compensate investors, "who purchased tokens in the ICO and request a return of funds".
According to ICO Drops, Gladius sold it's tokens in its November-December 2017 ICO for $1.25 USD each.
Coinmarketcap data shows that GLA tokens debuted on exchanges in February 2018, where they started trading at around $0.83 USD, and peaked a few days later at around $1.15 USD.
The same tokens today are trading at around $0.05 USD.
SEC's Cyber Unit Chief Robert A. Cohen reiterated that sentiment in a quote he provided for the release:
"The SEC has been clear that companies must comply with the securities laws when issuing digital tokens that are securities."
He also touted the benefits of self-reporting:
"Today's case shows the benefit of self-reporting and taking proactive steps to remediate unregistered offerings."
Gladius must issue a public release within two weeks outlining the remediation requirements for the purchasers along with a link to the SEC's order.
In November of 2018, the SEC settled civil cases against CarrierEQ Incorporated (Airfox) and Paragon Coin Incorporated, two companies that issued ICOs in 2017 despite the stern warning by the SEC included in the July 2017 DAO Report. Both Paragon and Airfox had to allow purchasers to recoup their money while each paid a fine of $250,000.
---
Gladius Network v. SEC 33-10608

---
Sponsored Links by DQ Promote