Investment crowdfunding platform Republic has kicked off the forthcoming distribution of the digital token "Note." The issuance of the digital asset was foreshadowed by Republic's acquisition of RenGen Labs, a private equity platform that has operated in the initial coin offering-security token offering sector of finance. Until April 2018, RenGen was operating under the SaftLaunch brand.  Republic did not reveal the terms of the acquisition.
When the acquisition of RenGen was announced the company stated there would be a blockchain-powered token would connect investors to the value of Republic's entire portfolio of investments. Holders of Note tokens would be able to earn the tokens for "every action you take on Republic, from investing in companies to referring fresh deals, to telling your friends about a portfolio company you love."
In reviewing the fine print of Note, it appears that Republic intends to issue the asset using Reg A+. Republic states:
"Although the Note may not at this time constitute a "security" under our view of applicable laws and regulations, Republic is conforming to the standards of testing the waters under Regulation A of the Securities Act of 1933, as amended ("the Act"). This process allows companies to determine whether there may be interest in an eventual offering of its securities. Republic is not under any obligation to make an offering under Regulation A. Republic may choose to make an offering to some, but not all, of the people who indicate an interest in investing, and that offering may not be made under Regulation A. For example, Republic may determine to proceed with an offering under Rule 506(c) of Regulation D, in which case we will only offer our securities to accredited investors as defined by Rule 501(a) of Regulation D."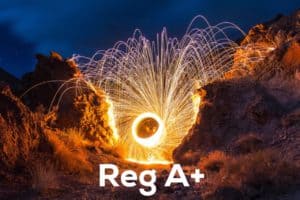 If Republic decides to pursue the issuance of a digital asset under Reg A+ the offering must first be qualified by the Securities and Exchange Commission (SEC). To date, not a single security token offering using Reg A+ has been approved by the SEC. While many offerings have been filed, the SEC has been hesitant to move forward with any Reg A+ filing that includes the terms blockchain, security token, digital asset etc.. Some issuers have simply refiled removing all digital asset vernacular.
On the sign-up page for Note, Republic states:
"The Note is a scarce blockchain-powered digital asset easily earned and held on Republic. We intend to connect the Note to Republic's entire present and future startup portfolio, entitling you to returns whenever any startup successfully exits.*  With the Note, when we win, you win."
Republic is a regulated funding portal issuing securities under Reg CF. The potential Reg A+ offering will be the platforms first. Under Reg A+, an issuer may raise up to $50 million in an IPO like offering that entails extensive documentation with the SEC. Both accredited and non-accredited investors may participate in a Reg A+ offering.
Republic is a leading Reg CF platform that has targeted underserved segments of business in need of growth capital. A sister platform to both CoinList and AngelList, Republic supports diverse/mission-driven companies while providing access to non-accredited investors to these early-stage firms. Republic has issued both traditional and crypto based securities since platform launch.
Have a crowdfunding offering you'd like to share? Submit an offering for consideration using our Submit a Tip form and we may share it on our site!