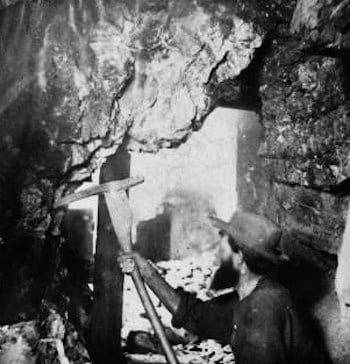 The price of Bitcoins made a newsworthy jump of 20% last Monday morning, and that gain is still holding, but the lean early months of 2018 saw a second round of layoffs at Hut 8, "Canada's largest cryptocurrency miner," CBC reports.
Hut 8 runs 85 "data centres" dedicated to the mining of cryptocurrencies in Drumheller and Medicine Hat, two small municipalities in the western Canadian province of Alberta.
Hut 8 cryptocurrency mines are run in partnership with Bitfury, the second largest cryptocurrency mine operator and equipment manufacturer in the world.
Hut 8 has reportedly mined 7300 bitcoins since "its servers first switched on" in December 2017, when a single bitcoin briefly traded for $25 000 CAD (~$20 000 USD).
But that was the top of the market, and within two months, bitcoins were trading at half that, and currently trade for around $6800 CAD.
A Hut 8 employee who lost his job at the Drumheller facility in January told the CBC that another 2 dozen individuals in his workplace were let go at the same time:
"In Drumheller, we were expecting some form of layoff but not in the mass amount that we had. At the time, we were just starting to be up online, be completely streamlined…The plan was maybe laying a couple people off per shift but it ended up that probably half of the data centre ops crews were let go."
The individual also reported that he believed Bitfury had cut a quarter of its global workforce, with a higher ratio of those cuts levelled in Alberta, where an extraordinarily hot summer had recently driven up electricity costs.
"Power prices were going up, and bitcoin was going down," the employee told the outlet.
The CBC says Hut 8's third quarter 2018 financial statements report revenue of $17.7 million CAD and a net operating loss of $11.1 million CAD.
The same report shows that the cost of mining one Bitcoin during that period was $4500 CAD.
Bitfury would not provide details about the extent of 2019 layoffs, but admitted it is, "streamlining…operations… in order to…advance strategic plans to develop innovative software and hardware solutions and focus on other emerging technologies."
Bitfury competitor Bitmain recently tried to have an IPO prospectus approved in Hong Kong but the application lapsed after it was not approved within a required time frame.
Local commentators claimed that Hong Kong regulators were concerned that Bitmain had failed to prove it has pivoted substantially into other computing fields, including AI.
Hong Kong regulators also reportedly expressed fears that Bitmain might not be able to maintain previous business levels.
"Crypto fever" has cooled of late and some projects in the crypto sector, like Ethereum, are seeking alternate and greener means of securely recording transactions- rather than energy consumptive cryptomining.
Bitmain also laid off workers in 2018 and closed relatively new facilities in Texas and Isreal.