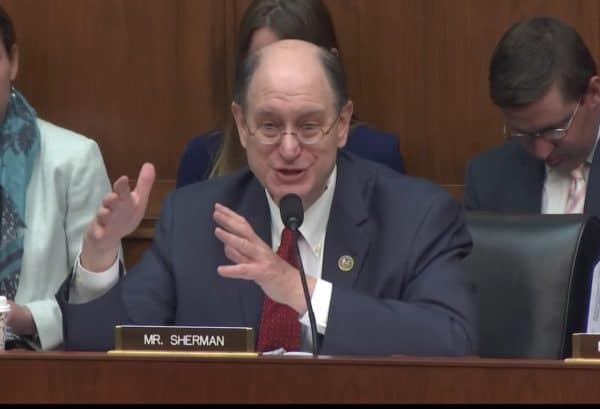 Congressman Brad Sherman, a Democrat who represents a Southern California District in the San Fernando Valley, has called on fellow congressional reps to ban cryptocurrencies.
He asks that they do so on the basis that cryptocurrencies' "sole" application is for the undermining of the rule of law, including United States foreign policy and the US dollar's dominance as the global reserve currency.
A short video of Rep Sherman's comments was tweeted out by CoinCentre, a cryptocurrency-industry lobbying group based in Washington, DC. The tweet from CoinCentre also includes the comment, "This is why Coin Centre is needed in DC now more than ever."
In the video, Rep Sherman states:
"I look for colleagues to join me in introducing a bill to outlaw cryptocurrency purchases by Americans so we nip this in the bud, partly because an awful lot of our international power comes from the fact that the dollar is the standard unit of international finance and transactions. Clearing through the New York Fed is critical for major oil and other transactions."
Sherman included comments that hint at the ideology and beliefs espoused by many cryptocurrency founders and users, which typically lean towards libertarianism, anarchism, anti-imperialism, a preoccupation with privacy and moral relativism.
Crypto media outlet Bitcoin.com, founded by early Bitcoin adopter and Bitcoin Cash creator Roger Ver, perhaps best exemplifies the ideological preferences of many crypto supporters, who are typically highly suspicious of the US government, its federal reserve and of traditional banking in general.
While still a very young technology entrepreneur, Ver was jailed for selling large "firecrackers" prohibited in the US because they can be used to detonate explosives.
Ver was badly affected by the experience and has spoken bitterly of being deprived of his human rights in jail.
Ver studied Japanese while incarcerated, eventually moved to Japan and has renounced his US citizenship.
Crypto enthusiasts like Ver envision autonomous "Internet money" systems that are beyond the control of any one state or entity. In practice, however, cryptocurrency's main use so far appears to have been for speculation by investors and "underground" transactions, including drug deals,  illicit purchases on the Dark Net, and money laundering.
"Crypto's" philosophy does contrast with American foreign policy objectives, where the US dollar's global dominance is seen as an important means of protecting US security and interests.
Rep Sherman expressed that notion while proposing a bill to ban cryptocurrencies:
"…(I)t is the announced purpose of the supporters of cryptocurrency to take that power away from us and put us in the position where the most significant sanctions we have on Iran, for example, would become irrelevant."
"So whether it is to disempower our foreign policy, our tax collection enforcement, or our traditional law enforcement, the purposes of cryptocurrency, the advantage it has over sovereign currency, is solely to aid in the disempowerment of the United States' rule of law."
Sherman's call differs significantly from legislative efforts currently being undertaken in the US by other policymakers, who state that they wish to foster the cryptocurrency and "digital asset" sectors as a means of innovating in capital formation.
In March, the state of Wyoming passed five cryptocurrency bills, bills previously described in Crowdfund Insider as follows:
A coalition of bipartisan US politicians has also introduced the Token Taxonomy Act of 2019 (H.R. 2144) legislation in the House of Representatives.
According to Crowdfund Insider, the Token Taxonomy Act, "…is designed to enable a digital asset that is a utility token unregulated by the Securities and Exchange Commission (SEC)."
The bill reportedly seeks to:
"… exclude digital tokens from the definition of a security, to direct the Securities andExchange Commission to enact certain regulatory changes regarding digital units secured through public key cryptography, to adjust taxation of virtual currencies held in individual retirement accounts, to create a tax exemption for exchanges of one virtual currency for another, to create a de minimis exemption from taxation for gains realized from the sale or exchange of virtual currency for other than cash, and for other purposes."
Crypto Invest Summit organizer and Venture Capitalist, Alon Goren, has responded to Rep Sherman's call for a ban by inviting him to publicly debate cryptocurrencies at any large venue in LA.
Dear @BradSherman, I run the largest group of techies and entrepreneurs in your district and surrounding areas. Thousands of members (your constituents). I'll get @tocap or any large theater in area & stream it. Let's debate this civilly. Name the time. You can pick moderator.
-A https://t.co/1UcAVCWeGD

— Alon Goren (@AlonGoren) July 18, 2018
Modulus CEO Richard Gardner has also urged Rep Sherman to consider how a digital currency issued by a state could add transparency to a financial system and thereby reduce unemployment and corruption.

Sponsored Links by DQ Promote