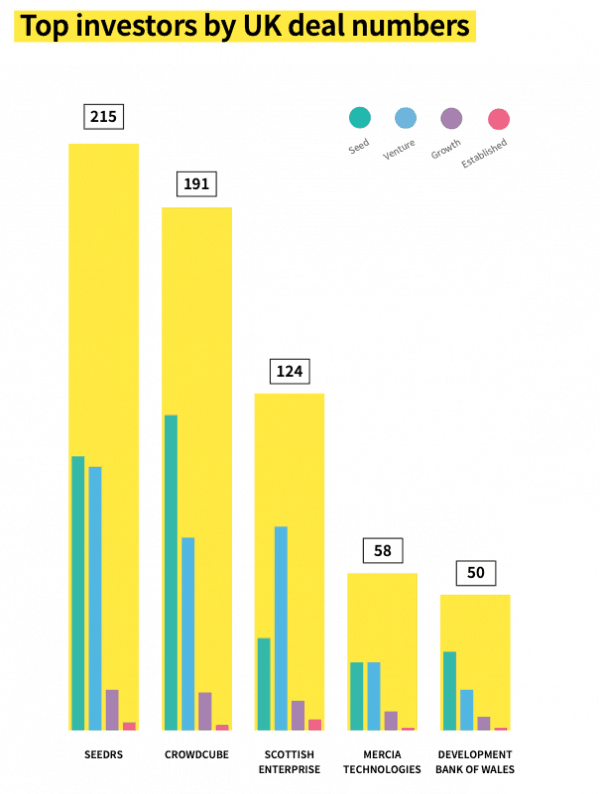 Recently, Seedrs received a nice recognition of sorts. A report by Beahurst crowned Seedrs as the UK's Most Active Investor for 2019.
In the past, Crowdcube has regularly received the title but during 2019, Seedrs booked 215 deals while Crowdcube came in at 191. As we have noted in the past, the number of deals does not always tell the entire story and the fact that investment crowdfunding platforms have become a vital variable in the early stage ecosystem in the UK is a win for all platforms.
While Seedrs listed more deals, Crowdcube did raise more capital. During the year, Seedrs raised £99.3 million and Crowdcube booked £125.3 million.
To quote the report:
"Seedrs takes the crown as the UK's most active investor, having facilitated 215 investments throughout the year. Coming in a close second in the overall rankings, Crowdcube participated in the highest number of seed-stage deals in 2019. It comes as no surprise that these two crowdfunding platforms top our charts – as they do so year after year – and we expect their dominance to persist for the foreseeable future. Whilst total UK deal numbers dropped between 2018 and 2019, both Seedrs and Crowdcube saw deal activity rise by 36% and 14%, respectively. Clearly, the crowd is showing great appetite for a chunk of the UK's fastest-growing businesses, and entrepreneurs want them on board."
Roberto Napolitano, Marketing Director at Seedrs, told Beauhurst that the UK's entrepreneurial scene is the most active in Europe:
"… tax relief incentives, such as EIS and SEIS, make the country a relatively hospitable place to invest in young companies, compared to other countries. The government has thus far been very supportive of funding ambitious startups … we're renowned for fostering an innovative and supportive environment for entrepreneurs, so we'd like to see that continue."
Overall, 2019 reflects the "busiest year" for investment crowdfunding in the UK. In total,  424 deals were financed by using these services.

Seedrs continues to iterate and update its platform. This week, Seedrs distributed a note on its Secondary Marketplace. Seedrs is the only platform to operate a successful secondary platform in the UK. As online capital formation for early-stage companies is still a young market launching a workable marketplace to trade private securities is a pretty heavy lift. It takes some time.

Seedrs has announced that its Secondary Market is now out of Beta. Additionally, Seedrs is removing the £1,000 limit on the size of the share lots a buyer or seller may list. Now individuals will be able to list lots up to £25,000/€25,000.

If you want, unsold shares can automatically relist – beginning in April.

Seedrs also added a transaction fee to help cover the cost of operation. The company is introducing a 1.5% transaction fee each for the buyer and seller.

Sponsored Links by DQ Promote