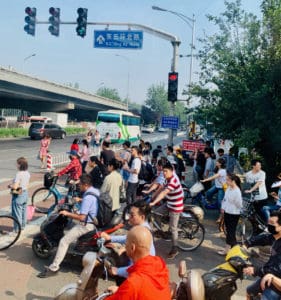 IRISnet, which aims to serve as an interchain service hub for next-generation distributed applications, is planning to integrate key services as a public chain service portal of China's Blockchain Service Network.
The integration of these services should offer a "low-threshold and convenient-access" development environment for developers in the ecosystem.
As mentioned in a blog post by IRISnet:
"BSN is a cross-cloud, cross-portal, cross-framework blockchain-based global infrastructure network, supported by major Chinese entities and corporations, and its founding consortia partners include China's State Information Center, China Mobile, China UnionPay and other organizations. IRISnet has previously joined the BSN ecosystem as the first batch of public blockchains and is one of the first batch of public chains to join BSN O. P. B. Initiative."
IRISnet confirmed that it will be embedding the BSN International's public chain services into the IRISnet web portal via BSN's Empowerment Platform. IRISnet will also set up a portal where app developers can access BSN public chain services, which may include user registrations, node building, node updates, information queries and various other operations.
As reported recently, IRISnet joined Polkadot, Tezos, Algorand, Ethereum, Cosmos (and several other blockchain projects) to work on China's BSN Open Permissioned Blockchain Initiative.
In September 2020, the IRISnet team began inviting developers to create their first decentralized application (dApp) using the Public Chain Node Service offered by BSN. They've put together a tutorial to help software engineers with getting started with the appropriate tools provided by partners involved in the BSN initiative.
In August 2020, IRISnet partnered with MYKEY in order to bring MYKEY's core technologies, including its Smart Wallet and digital identity, and also MYKEY's ecosystem to IRISnet's "internet of blockchains."
In June 2020, IRISnet teamed up with Kava Labs to further support and promote decentralized finance (DeFi) application development on each other's respective blockchain or distributed ledger technology (DLT) networks.
As noted in an announcement made in June 2020:
"IRISnet will fully integrate Kava's DeFi lending platform and stablecoin into IRISnet. With the cross-chain DeFi platform, IRISnet plans to use Kava to provide its ecosystem with stable, secure, high-performance, and sustainably scalable DeFi applications." 
IRISnet aims to offer iService and Coinswap applications to Kava in order to improve liquidity.

Sponsored Links by DQ Promote