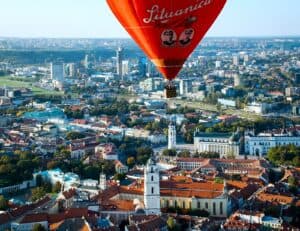 Lithuania's borderless finance platform Debitum is pleased to confirm that Henrijs Jansons has joined the firm as its new Chief Executive Officer. His appointment became effective at the end of January 2022.
Henrijs is reportedly replacing former CEO Sergei Demchuk, who will "focus on the Debitum platform growth and expansion in his new role as a Supervisory board member."
Professionally, Henrijs has been "working in FinTech, Finance & IT sectors for most of his career, from reshaping financial and operational planning to driving core financial system development such as loan origination systems, debt collection systems, self-service portals, and peer-to-peer lending platforms."
Sergei Demchuk, Supervisory board member, stated:
"Closely analyzing all the candidates, Martins and I find that Henrijs experience, skillset and mindset is in the unity with and for Debitum. Together with Henrijs, we will continue our exponential growth and excellent product development path."
Besides leadership and excellent product development, Henrijs is also focused on attaining the best results.
He remarked:
"The reason I joined Debitum? Here I can utilize my skills, prior experiences, and professional contacts to the full extent by doing what I love – developing and launching new products that I believe in and that benefits society. Finally, I am thrilled to join in this journey where we help small and medium-sized businesses accelerate and grow to provide solutions and services for the benefit of society."
There were 8788 registered users (activated) on Debitum in January 2022. A total of 11.7M Euros was deposited on the platform. 2.5M Euros in loans were originated And 49.9M Euros were invested 49.9 M in January 2022. (Note: for a more detailed breakdown of the platform's stats, check here.)

As covered in November 2021, Lithuania-based financial platform Debitum shared key information with their investors – the company's Financial report Q3, 2021.

As noted in an update by Debitum, the document "presents the financial and business performance of the SIA DN Operator – the platform owner."

Debitum revealed that there was 130,300 EUR of repaid interest in Q3 2021 and together with repaid penalties, investors all-time earnings in Q3 2021 "increased by 28% reaching almost 600,000 EUR total funds paid to investors."

Sponsored Links by DQ Promote