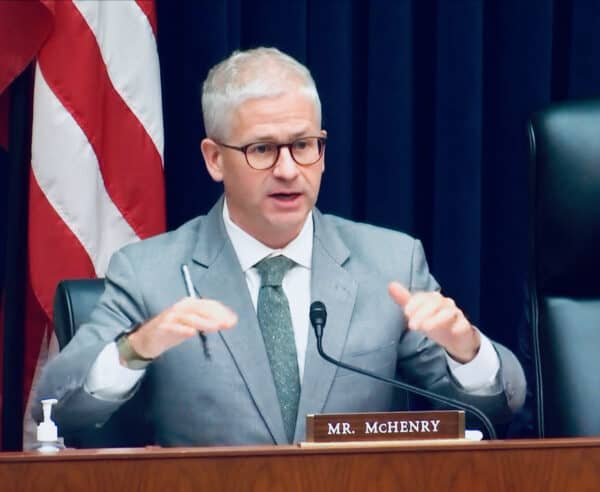 The Chair of the House Financial Services Committee, Patrick McHenry, issued a statement today as he led its Organizational Meeting for the 118th Congress. McHenry said that under his leadership, the Committee is ready to boost innovation as well as pursue policy that fosters economic opportunity for all Americans.
Noting the partisan differences between the two sides of the aisle, McHenry struck an optimistic note, stating there have been times they have agreed and worked together on certain issues, adding that his door is always open to discussion.
"But it is critical that when we do have policy disagreements, we do not allow them to lead to personal animosity. Our debates should be substantive, worthy of this institution and the American people who sent us here to work on their behalf."
McHenry criticized SEC Chairman Gary Gensler – appointed by the Biden Administration, there has been growing displeasure on both sides of the aisle of his management of the Commission.
"Second, digital assets. Gary Gensler's regulation through enforcement isn't protecting consumers. Americans have lost billions of dollars in digital assets to bad actors on his watch. It's our job as legislators to provide clear rules of the road for this technology that protect consumers, while allowing innovation to thrive here in the U.S. I think we can achieve that balance. This is why I have created a subcommittee on digital assets, chaired by Congressman [French] Hill."
McHenry highlighted his support of online capital formation, or securities crowdfunding, mentioning the JOBS Act – signed into under during the Obama administration, during a Democrat-controlled Senate and Republican-led House.
"… enhancing capital formation opportunities, just as we did a little over a decade ago with the bipartisan JOBS Act under a Republican House, Democrat-led Senate, and a Democrat President. It is my hope we can build on that success."
Congressman McHenry is most likely alluding to the JOBS Act 4.0 – introduced during the last Congress without making much progress on either side of the Capitol.

Expectations are high for the Committee to be supportive of entrepreneurship, access to capital, and innovation in financial services – or Fintech – which stands to benefit all Americans.

The first Agenda of Committee hearings should be forthcoming soon.

Expectations are high for the Committee to be supportive of entrepreneurship, access to capital, and innovation in financial services @FinancialCmte

Sponsored