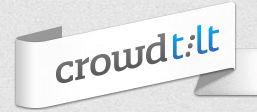 Crowdtilt is working on a mobile app that will allow anyone to create or back projects directly from their smartphone. Those interested in the app can sign up to be notified of the app's release on Crowdtilt's homepage.
The announcement was made today at TechCrunch Disrupt, a developer-centric tech conference held in San Francisco.
Crowdtilt has been busy rolling out new features lately. The company formally released Crowdhoster in August. Crowdhoster is a DIY crowdfunding solution that doesn't require any coding or development. Rob Rhinehart and Soylent used Crowdhoster to raise over $1 million.
They also recently added a "sliding costs" feature that enables real-time tracking and adjustment of per-person contributions in fixed-cost crowdfunding efforts.
Kickstarter and Fundly also have mobile crowdfunding apps.
[h/t VentureBeat]