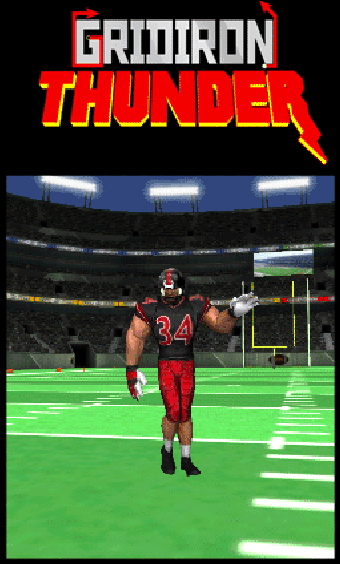 Gridiron Thunder, an "Awesome Indie Football Game for OUYA" was successfully crowdfunded on September 8, 2013 after enduring a contentious and controversial campaign on Kickstarter.  Raising $171,009 on a goal of $75,000 the organizer MogoTXT threatened legal action against one of the backers in the very public forum of the campaign comments page.
The invective swirling around the project over-shadowed the game in many respects, as the drama hit a peak this past September.
Eventually cooler minds prevailed and the world moved on.  Gridiron Thunder had intended on participating in the OUYA "Free the Games Fund" but decided to back out of the matching funds, stating they wanted to focus more on the game they are about to launch.
Gridiron Thunder finally released the 1.0 Version of the game on December 2nd.  MogoTXT pushed a new update on December 20th which added further refinements to the product.  An online multiplayer version is still in the works.
The first batch of review were mediocre at best.  SuperGameDroid described the game in their review:
Android gamers, and OUYA gamers in particular, have been anxiously waiting for a decent football game to come to the market that isn't ruined by freemium game design…..

…What we got instead was a cookie cutter football game that took development shortcuts at every turn.Gridiron Thunder may be the first real OUYA sports title ever, but the whole affair is uninspired and largely forgettable. None of its proposed genre redefining features made the cut, leaving a game design that offers only the barest of gaming experiences. Granted, there are a few redeeming qualities to Gridiron Thunder to be found if you look hard enough but by and large the OUYA's first official football game is a big disappointment.
Gamers are still hopeful the product will evolve into something more compelling.  The recent update appears to have created only minor improvements.  Some commenters believe the game would have been "a big seller if it had been shipped ready to play".
Have a crowdfunding offering you'd like to share? Submit an offering for consideration using our Submit a Tip form and we may share it on our site!